Inland Fisheries: Ecology and Management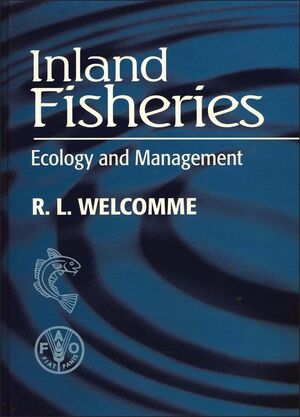 Inland Fisheries: Ecology and Management
ISBN: 978-0-470-99568-6
Apr 2008, Wiley-Blackwell
384 pages
Description
The current high demand for fish and increased awareness of the role of the environment in supporting human well being has led to a situation where attitudes to inland water resources are changing rapidly.

Trends in resource use and environmental impact are very evident in inland waters which are particularly vulnerable as they act as collectors of all the activities occurring in their basins and rank as some of the most endangered ecosystems in the world. The principle changes influencing the evolution of the aquatic resource for fisheries are described in this book, which has been compiled for the Food and Agriculture Organization of the United Nations.
Authorship.
Acknowledgements.
Guidelines.
1. Introduction.
Resource availability.
Political and economic climate.
The changing situation of fisheries.
A new vision for management.
2. Objectives.
Objectives for the fishery.
Regional differences in management strategy.
3. The Nature of Inland Waters.
Types of inland water.
4. The Nature of Fish Populations.
Fish populations in different types of inland water.
The size structure of fish populations.
Dynamics of fish populations.
Biomass and production.
Migration and movements.
Responses of fish populations to stress.
5 The Fisherman and the Fishery.
The fisherman and society.
6 Fishing Techniques.
Types of fishing regime.
Fishing technology.
Social and policy implications of fishing technology.
Seasonality of fishing.
7 Fish Utilization.
Fish as food and nutrition.
Fish preservation.
Marketing.
8 Resource Evaluation.
Stock assessment.
Catch assessment.
Analysis of markets.
Analysis of consumption.
Area-catch studies.
Environmental data.
9 Social and Economic Evaluation.
Evaluation of the social and institutional context of a fishery.
Sampling.
10 Integrating Information.
Resource mapping.
Geographical information systems.
Summary and conclusions.
11 Fishery Management.
Social and policy consideration.
Strategies for regulation of fisheries.
Measures for regulation.
12 Environmental Management.
Other users of the inland water resource.
Impacts of other users.
Remedial measures.
Basin planning.
13 Enhancement.
Techniques for enhancement.
Summary of enhancement strategies.
Cost effectiveness.
14 Mitigation and Rehabilitation.
Objectives of rehabilitation.
Habitat requirements of fish.
Protection of water quality.
Control and use of vegetation.
Rehabilitation of lakes and reservoirs.
Rehabilitation of rivers.
15 Biodiversity and Conservation Issues.
Importance of biodiversity.
Management of biodiversity.
16 Legislation.
International instruments.
National legislation.
Regional legislation.
17 Conclusion.
Changing patterns for the resource.
Monitoring.
Needs for participatory management.
References.
Index.
"... of great use to the practitioner who needs one easy-to-use source of more detailed references." (
Fish and Fisheries
)
"Inland fisheries are a complex subject that is well covered in this first rate book." (Fishing Boat World)
"This book bridges the gap between books on aquaculture and those on fisheries from our ocean waters. It will serve as an essential reference for those involved in inland fisheries management" (Aquaculture Magazine)
* essential information for fisheries managers
* includes a vast wealth of information
* compiled for FAO, Rome