Innocence Betrayed: Paedophilia, the Media and Society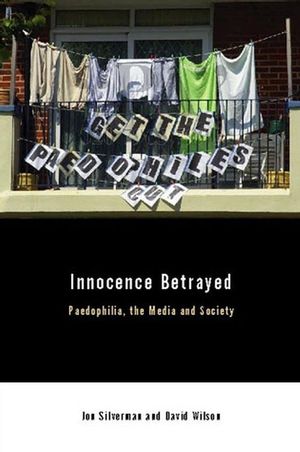 Innocence Betrayed: Paedophilia, the Media and Society
ISBN: 978-0-745-62889-9 December 2002 Polity 200 Pages
Download Product Flyer
Download Product Flyer
Download Product Flyer is to download PDF in new tab. This is a dummy description. Download Product Flyer is to download PDF in new tab. This is a dummy description. Download Product Flyer is to download PDF in new tab. This is a dummy description. Download Product Flyer is to download PDF in new tab. This is a dummy description.
Description
Innocence Betrayed
is the first sustained attempt to address the issue of how we can best protect children from the threat posed by predatory paedophiles. It asks all the difficult questions: Can paedophiles be treated? Do they change their behaviour? Does naming and shaming help protect our children or make matters worse?
Combining the skills of journalistic research and academic scholarship, this engaging and accessible book carefully untangles the
News of the World
's 'Sarah's Law' and presents, for the first time, the behind-the-scenes reaction to the newspaper. It contains an enlightening series of interviews with paedophiles, both in a penal setting and after release, in England, Wales and North America, as well as interviews with the victims of sexual abuse.
This important and timely book will be of interest to anyone who wishes to understand the complexity of the problem posed by paedophiles and how we can make our communities safer places for children.
Table of contents
Acknowledgements.
Introduction.
1. A Short History Of Sex Offending.
2. Paedophiles.
3. Beyond Victimhood.
4. Dealing With Paedophiles Within The Penal System.
5. Protecting The Community.
6. Release.
7. Communities In Need Of 'Community Notification'.
8. Named And Shamed.
9. 'Charlie's Angels' And How To Protect Our Children.
Bibliography.
Index.
Reviews
"We fear it and loathe it but if we want to protect our children we must understand it too. The authors use formidable research to put paedophilia in context. This book is uncomfortable reading – but essential." John Humphrys, 'Today', BBC Radio 4
"No one has previously put the case so well for having an adult, rational debate about how we should respond to paedophilia. Nor have the counterproductive dangers of outing, naming and shaming with responses like Megan's Law been so clearly discussed. A thoroughly researched and well argued study." Rod Morgan, Her Majesty's Chief Inspector of the Probation Service for England and Wales

"Silverman and Wilson manage to achieve what many of us aspire to - a book that will appeal both to a specialised and lay audience. In the emotionally charged atmosphere of considering the threat posed by predatory paedophiles ... it is important that we have a text that is thoughtful and measured, while also recognising the deep emotions that the topic raises among the populace. ...[T]his is a well-written book that can be recommended to the interested layperson ... while, for the specialist, it draws the threads together of the recent painful scenario where the News of the World has largely orchestrated the terms of the debate." The Howard Journal of Criminal Justice
Features
A very readable and accessible book which is also rigorous and well researched.

Written by Jon Silverman (BBC Home Affairs Correspondent) and David Wilson (former prison governor) - public figures with many contacts in the press and media.

Based on original research with serving and released paedophiles, both in this country and North America.

Unique access gained to prisons and to The News of the World, and their "naming and shaming campaign".

First sustained attempt to answer the question of how to protect our children from the threats posed by predatory paedophiles.