Innovation Nation: Canadian Leadership from Java to Jurassic Park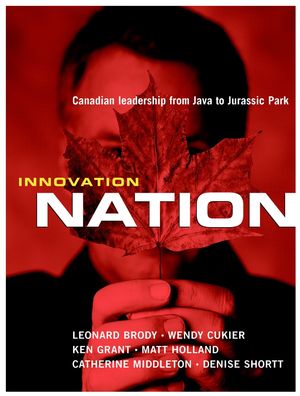 Innovation Nation: Canadian Leadership from Java to Jurassic Park
ISBN: 978-0-470-15825-8 September 2009 256 Pages
Description
From developing Java and the Blackberry to defining the specifications for XML, Canadians have blazed trails in the world's most innovative companies. Canadians have also risen to the top of the largest technology firms, providing a CEO for Yahoo!, Jeff Mallet, and eBay's first president, Jeff Skoll.

This sets the stage for Innovation Nation, a new book designed to cut through traditional Canadian modesty and provide a window into the fibre, minds and makeup of over thirty Canadians whom the world needs to know. Demonstrating innovative thinking and entrepreneurial drive, these Canadians show themselves to be the leaders of today and tomorrow.

Through these profiles, readers will also come to understand how Canada as a nation helped shaped the thinking of these businesses. With strong qualities, Canada has the infrastructure necessary to continue fostering such leadership and emerge as the world's Innovation Nation.
Acknowledgements. 
Foreword: Welcome to the Always-On Generation by Anthony B. Perkins.
The Precis. 
Introduction: The Canadian Story–Version 1.0.
Profiles. <br>
Glenn Ballman: Entrepreneur in the Extreme. 
 Jim Balsillie and Michael Lazaridis: You Can't Learn Surfing From a Textbook. 
Tim Bray: The Seer. 
Rob Burgess: The Art of the Turnaround. 
Paul Chen and John Eckert: Surviving the Long Walk Through the Night. 
Evan Chrapko: "Seed" Financing. 
Dr. Gururaj "Desh" Deshpande: Success at $26.95. 
Brian Edwards: The Original Surfer. 
Norm Francis: The Grand Slalom. 
Michael Furdyk: Gen Next. 
Dan Gelbart: True Control Is Being Needed.
James Gosling: Lessons My Wife Taught Me About Technology.
Rubin Gruber: Wednesday Nights.
The Hills-Austin, Hamnett, and Hammie: Missionaries and Mercenaries.
Dr. Julia Levy: The Genomics of Profitability. 
Don Mattrick: He Got Game. 
Jean Monty: The Transformer. 
Antoine Paquin: Finding the Magic Spot. 
Jesse Rasche: Cash, Equity, and Community...Canadian Style. 
Andrea Reisman Johnson: The Winning Pitch. 
Emad Rizkalla: Made in Canada. Sold in the USA. 
Ted Rogers: Skate to Where the Puck Will Be. 
Ellie Rubin: Interpretation vs. Invention.
Jonathan Seelig: Sharing the Podium. 
Gerri Sinclair: Poetry and Coding. 
Sukhinder Singh: Deal Diva. 
Mark Skapinker, Rick Nathan, and Tony Davis: Zigging and Zagging. 
Carol Stephenson: The "Soft" Skills are Hard. 
Sandra Wear: Navigating Through the Wind Tunnel. 
Bob Young: Thinking Open Source. 
Afterword: Lies an Entrepreneur Told Me by Dr. Paul Kedrosky. 
About the Authors.