Innovations in Healthcare Design: Selected Presentations from the First Five Symposia on Healthcare Design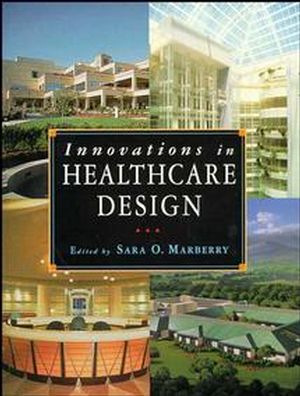 Innovations in Healthcare Design: Selected Presentations from the First Five Symposia on Healthcare Design
ISBN: 978-0-471-28637-0
May 1995
320 pages
Description
This book is a selective, revised and annotated compendium of the best presentations at the prestigious National Symposium on Healthcare Design. It includes a major introduction by Wayne Ruga, the guru of international healthcare facilities design, as well as chapters on medical offices, new technologies, healing environments, and acute, long-term, ambulatory, and pediatric facilities.
NEW POSSIBILITIES.

The Outlook for Healthcare Design in the Era of Reform (R. Coile).

Acute Care Design: Emerging Trends (W. Jones).

Ambulatory Care Design: The New Generation (G. Pressler).

A SENSITIVE APPROACH.

History of Healthcare Environments (N. Kellman & M. Arch).

Future Trends in Healing (R. Gerber).

PATIENT-FOCUSED CARE.

Patient Perspective (S. Baier).

The Planetree Philosophy (R. Orr).

DESIGN IMPACT.

Effects of Healthcare Interior Design on Wellness: Theory and Recent Scientific Research (R. Ulrich).

Design for Therapeutic Outcomes (M. Williams).

Psychoneuroimmunology (M. Gappell).

Creating a Total Healing Environment (P. Linton).

Defining and Conveying Design Value (B. Geddis).

DESIGN TECHNOLOGIES.

Color for Healing (A. Torrice).

Beyond Silence: Music as Environmental Design (S. Mazer & D. Smith).

Art of Health: Emerging Trends (H. Oren).

PROJECT EXAMPLES/PEDIATRICS.

New Regional Children's Hospital at Stanford, (F. Cleper-Borkovi, et al.).

With Children in Mind: Novel Approaches to Waiting Area and Playroom Design (A. Olds).

The STARBRIGHT Pavillion (J. Diaz).

PROJECT EXAMPLES/HOSPITALS AND MEDICAL OFFICES.

The Aga Khan University and Medical Center.

Lambeth Community Care Center (R. Nicholson).

Medical Office Design: Theory and Types (J. Malkin).

PROJECT EXAMPLES/LONG-TERM CARE.

Theory and Types (M. Cohen).

The Corinne Dolan Alzheimer Center (M. Calkins).

Postscript (W. Ruga).

Index.