Innovative Minds: A Look Inside Siemens' Idea Machine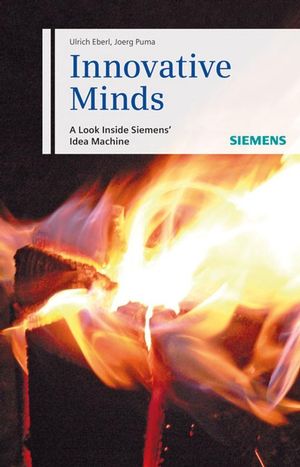 Innovative Minds: A Look Inside Siemens' Idea Machine
ISBN: 978-3-895-78606-8
Jun 2007
264 pages
Description
This book tells the story of 30 innovations - the large and the small, the rapid and the slow-moving, the disruptive and the evolutionary - and covers the entire spectrum of people and processes involved in their development. "Innovative Minds" provides a unique insight into the multi-dimensional process of innovation development at Siemens. All of the innovations were shaped not only by complex organizational forces and strategies, but also by a host of factors, including bold visions, creative freedom, conflicts, internal and external networks, teamwork - and an ample measure of luck.
Every innovation story yields many valuable lessons, for companies and for each individual involved. With this in mind, the authors offer a wealth of experiences for all readers who are involved in the process of innovation - whether in a strategic or hands-on capacity - in fields such as research and development, marketing, production and sales, strategy and innovation management, organization and management.
Innovators as Entrepreneurs.
It's All About People.
Helping to Shape Tomorrow's World.
Managers on Innovation.
Visionary Personalities.
Piezo Injection - Keeping Faith with an Idea.
Paradigm Shift - The Electronic Wedge Brake.
Sensors in the Wall.
Digital Bloodhounds.
Merging Data Streams.
New Momentum for Trains.
The Colors of Success.
The Path Is the Goal.
Factory of the Future.
Revolution According to Plan - Whole-body MR Tomography.
Reactive Power Counts Too - New Solutions in Power Transmission.
All Ears for Customers.
Analysis Instead of Spontaneity - Innovation Steps for Gas Turbines.
Harnessing the Wind.
Siemens and the World.
The Future of Manufacturing Execution Systems.
I-WLAN - From University Research to a Global Product.
Biolab on a Chip.
Recipe for Success from China.
Simplicity as a Principle - Telephoning via Cable Networks.
An Ocean of Energy.
Innovation Is More Than Technology.
Machines for People.
The Power to Keep Ideas Alive.
Software for a Global Player.
Financing by Saving.
Body Codes.
The Yin and Yang of Innovation.
From Idea to Business Success.
From "Local Hero" To Number One in Automation.
The Universal Language for Medical Systems.
The Man Who Helped the U.S. Postal Service to Save Hundreds of Millions of Dollars.
Ups and Downs in the Communication Age.
The Triumph of the Halogen Lamp.
A Final Picture.
The Authors.