Inorganic Materials, 2nd Edition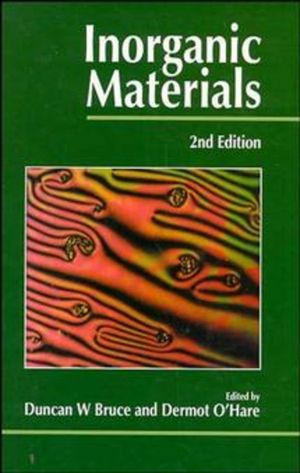 Inorganic Materials, 2nd Edition
ISBN: 978-0-471-96036-2
Jul 1997
610 pages
Description
Given the recent expansion in materials chemistry, this book addresses several of the vigorous areas of research in this field, where inorganic materials are central to the research. Each chapter provides an introduction to the subject under discussion and then develops the field to provide a sensible overview, with certain topics being expanded. Written by an international group of researchers the nine chapters cover such important areas as inorganic superconductors, magnetic materials, biogenic inorganic materials, polymeric co-ordination compounds, liquid crystals and precursors for electronic materials.
Molecular Inorganic Superconductors.

Molecular Inorganic Magnetic Materials.

Metal-Containing Materials for Nonlinear Optics.

Inorganic Intercalation Compounds.

Biogenic Inorganic Materials.

Clay Chemistry.

Polymeric Coordination Complexes.

Metal-Containing Liquid Crystals.

Precursors for Electronic Materials.

Indexes.