Inorganic Syntheses, Volume 1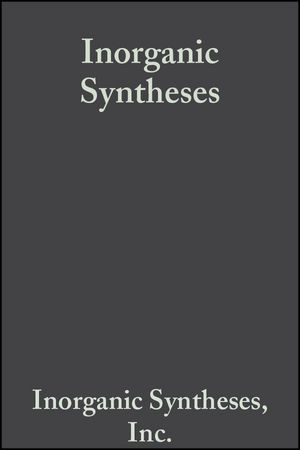 Inorganic Syntheses, Volume 1
ISBN: 978-0-470-13232-6
Jan 2007
197 pages
Description
The volumes in this continuing series provide a compilation of current techniques and ideas in inorganic synthetic chemistry. Includes inorganic polymer syntheses and preparation of important inorganic solids, syntheses used in the development of pharmacologically active inorganic compounds, small-molecule coordination complexes, and related compounds. Also contains valuable information on transition organometallic compounds including species with metal-metal cluster molecules. All syntheses presented here have been tested.
Preface.
Foreword by Roger Adams.
CHAPTER I.
1. Purification of Lithium Carbonate.
2. Purification of Silver Residues.
CHAPTER II.
3. Preparation of Amalgams.
4. Sodium Amalgam.
5. Barium Amalgam.
6. Amalgams of Lanthanum, Neodymium, and Cerium.
7. Red Mercuric Sulfide.
CHAPTER III.
8. Boron Trifluoride.
9. Potassium Fluoborate.
10. Gallium Trichloride.
11. Anhydrous Rare-Earth Chlorides.
CHAPTER IV.
12. Carbon Tetrafluoride.
13. Trioxalato Salts.
14. Silicobromoform (Tribromosllane).
15. The Higher Chlorides of Silicon.
16. Lead Dioxide.
17. Lead Tetracetate.
18. Anhydrous Zirconium Bromide.
19. Anhydrous Thorium Bromide.
CHAPTER V.
20. Nitrosyl Chloride.
21. Monochloramine.
22. Dibromoamine.
23. Nitrogen Trichloride.
24. Nitramide.
25. Sodium Amide.
26. Hydrogen Azide.
27. Potassium Azide (Alkali and Alkaline Earth Azides).
28. A . Azidodithiocarbonic Acid.
29. Thiocyanogen Solution.
30. Hydroxylamine.
31. Hydrazine Sulfate.
32. Recovery of Hydrazine Residues as Di-hydrochloride or Sulfate.
33. Guanidine Nitrate.
34. Phosphorus Pentachloride.
35. Crystalline Orthophosphoric Acid.
36. Arsenic Triiodide.
37. Antimony Triiodide.
38. A. Hypovanadous Oxide.
CHAPTER VI.
39. Oxygen Fluoride.
40. Hydrogen Sulfide.
41. Thionyl Bromide.
42. Sulfuryl Chloride.
43. Selenium Dioxide.
44. Sulfur, Selenium, and Tellurium Hexafluorides.
45. Chromous Acetate.
46. Chromous Chloride.
47. Silicomolybdic Acid.
48. Silicotungstic Acid.
49 . Phosphotungstic Acid.
CHAPTER VII.
50. Anhydrous Hydrogen Fluoride.
51. Fluorine.
52. Hydrogen Chloride.
53. Hydrogen Bromide.
55. Potassium Iodide for Use as a Primary Standard.
56. Iodine Monochloride.
57. Iodine Trichloride.
58. Periodates of Sodium, Potassium, and Barium.
59. Periodic Acid.
60. Metallic Rhenium.
61. Potassium Chlororhenite.
62. Rhenium Pentachloride.
63. Rhenium Trichloride.
CHAPTER VIII.
64. Tetrapyridino-Ferrous Chloride (Yellow Salt).
65. Gamma Ferric Oxide Monohydrate, and Gamma Ferric Oxide.
66. Bromopentamminocobalti Bromide.
CHAPTER IX.
67. A Laboratory Cement.
Subject Index.
Index of Contributors.