Inorganic Syntheses, Volume 11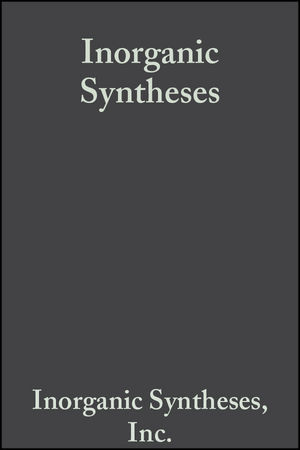 Inorganic Syntheses, Volume 11
ISBN: 978-0-470-13277-7 September 2009 231 Pages
Description
The volumes in this continuing series provide a compilation of current techniques and ideas in inorganic synthetic chemistry. Includes inorganic polymer syntheses and preparation of important inorganic solids, syntheses used in the development of pharmacologically active inorganic compounds, small-molecule coordination complexes, and related compounds. Also contains valuable information on transition organometallic compounds including species with metal-metal cluster molecules. All syntheses presented here have been tested.
Preface.
Notice to Contributors.
Chapter One THE SOLID STATE.
1. Barium and Strontium Molybdates(IV).
2. Cadmium Digallium(III) Tetrasulfide.
3. Single Crystals of Triiron Tetraoxide.
ChupterTwo BORON-HYDROGENCOMPOUNDS.
4. Diborane.
5. closo-1,2-Dicarbadodecaborane(l2) [1,2-Dicarbaclovodode-caborane(12)].
6. Polyhedral Hydroborates.
7. C-Amminecarbaundecaborane(12) Derivatives and Cesium Tridecahydrocarbaundecaborate(1–).
8. Transition-metal Complexes of B10H10CNH32- and B10H10CH3-.
Chapter Three COORDINATION COMPOUNDS.
9. Lattice-stabilized Complex Ions.
10. Potassium Octacyanomolybdate(IV) 2-Hydrate.
11. Manganates(VI).
12. Bis(dimethylg1yoximato) cobalt Complexes ("Cobaloximes").
13. Potassium μ-Oxo-bis[pentachlororuthenate(IV)] 1-Hydrate.
14. Vanadium(III), Cobalt(II), and Nickel(II) β-Keto Amine Complexes.
15. Hexacoordinate Complexes of Bis(2,4-pentanedionato) cobalt(II) [Bis(acetylacetonato) cobalt(II)].
16. Metal Derivatives of 2,2'-Iminobis(acetamidoxime).
17. Volatile Rare-earth Chelates of 2,2,6,6-Tetramethylheptaen -3,5-dione.
18. trans-Chlorocarbonylbis (triphenylphosphine) rhodium and Related Complexes.
19. trans-Chlorocarbonylbis (triphenylphosphine) iridium.
20. Tris- and Tetrakis (triphenylphosphine) platinum(0).
21. Square Planar Dichloropalladium(II) Complexes with Organophosphorus Ligands.
Chapter Four THE DEPROTONATION OF WEAK ACIDS WITH POTASSIUM HYDROXIDE: APPLICATIONS TO THE SYNTHESIS OF ORGANOMETALLICCOMPOUNDS.
22. σ-Methyl-π-cyclopentadienylmolybdenum Tricarbonyl.
23. Bis(cyclopentadienyl) iron (Ferrocene).
24. Bis(cyclopentadienyl) nickel (Nickelocene).
25. Methylphosphine.
26. Dimethylphosphine.
27. Methylgermane.
Chapter Five FLUORINE COMPOUNDS.
28. Thionyl Tetrafluoride and Pentafluorosulfur Hypofluorite.
29. Imidodisulfuryl Fluoride, Cesium Imidodisulfuryl Fluoride, and Fluoroimidodisulfuryl Fluoride.
30. Bis(fluoroxy) difluoromethane.
31. Xenon Difluoride.
32. Disulfuryl Fluoride (Pyrosulfuryl Fluoride).
33. Peroxydisulfuryl Difluoride (A Note of Warning).
Chapter Six MISCELLANEOUS NONMETALLIC COMPOUNDS.
34. Dimethylphosphine.
35. Bromosilane, Iodosilane, and Trisilylamine.
36. Silane, Stannane, Silane-d4, Germane-d4, and Stannane-d4.
37. Trialkoxyarsines (Trialkyl Arsenites).
38 . Sulfur Imides.
39. Nitrosyl Halides.
40. Trimeric Phenylphosphonitrile Bromides.
41. Xenon Trioxide Solution.
42. Sodium Perxenate (Sodium Xenate(VIII)).
Corrections.
Copper(I) Iodide.
Dichlorobis(4-chlorobutenyl) dipalladium(II).
Nitrogen Compounds.
Index of Contributors.
Subject Index.
Formula Index.