Inorganic Syntheses, Volume 14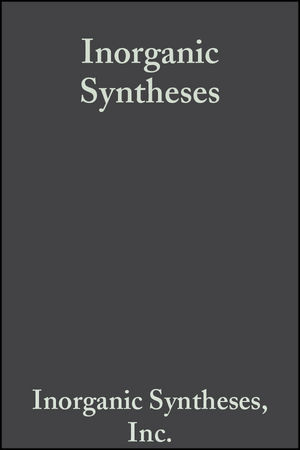 Inorganic Syntheses, Volume 14
ISBN: 978-0-470-13280-7 September 2009 237 Pages
Description
The volumes in this continuing series provide a compilation of current techniques and ideas in inorganic synthetic chemistry. Includes inorganic polymer syntheses and preparation of important inorganic solids, syntheses used in the development of pharmacologically active inorganic compounds, small-molecule coordination complexes, and related compounds. Also contains valuable information on transition organometallic compounds including species with metal-metal cluster molecules. All syntheses presented here have been tested.
Preface.
Notice to Contributors.
CHAPTER ONE PHOSPHORUS COMPOUNDS.
1 Phosphine.
2 tert-Butyldichlorophosphine and Di-tert-butylchlorophosphine.
3 1,2-Bis(phosphino)ethane.
4 Tetramethyldiphosphine and Flexible Aliphatic (Dimethylphosphino) Ligands.
5 Amido(Phosphonitrilic Chloride–Cyclic Trimer) and 1,1-Diamido(Phosphonitrilic Chloride–Cyclic Trimer).
CHAPTER TWO NON-TRANSITION-METAL COMPOUNDS.
6 Perchloryl Fluoride.
7 Chlorodifluoroamine and Difluorodiazene.
8 Dioxygenyl Salts.
9 Bis(trifluoromethyl) Sulfoxide.
10 Aluminum Trihydride-Diethyl Etherate.
11 Trimethylammonium Tetraphenylborate.
12 Tetrakis(acetato)di-μ-amido-diborane.
CHAPTER THREE TRANSITION METAL COMPLEXES.
13 A General Nonaqueous Preparation of Cobalt(III) and Nickel(II) Diamine.
14 Dianionobis(ethylenediamine)cobalt(III) Complexes.
15 Bis(ethylenediamine)sulfito Complexes of Cobalt(III).
16 Nitrosyliron, -cobalt and -nickel Iodides.
17 Potassium Trichloro(ethylene)platinate(II).
18 Chlorobis(cyclooctene)rhodium(I) and -iridium(I) Complexes.
19 Cooper(I) Ammonium Tetrathiomolybdate(VI).
CHAPTER FOUR SOME SIGNIFICANT SOLIDS.
I Halides and Oxyhalides.
20 Iron(II) Halides.
21 Niobium(IV) Fluoride and Niobium(V) Fluoride.
22 Tungsten Oxyhalides.
23 Indium(III) Oxyfluoride.
24 Strontium Chloride Phosphate and Vanadate(V).
II Oxides.
25 Niobium Monoxide.
26 Magnesium Chromite.
27 Silver Ferrate(III).
28 Barium Titanate, BaTiO3.
29 Bismuth Titanate, Bi4Ti3O12.
30 Cadmium Rhenium(V) Oxide, Cd2Re2O7.
31 Molybdenum(IV) Oxide and Tungsten(IV) Oxide Single Crystals.
III Chalcogenides.
32 Rare-Earth Sequisulfides, Ln2S3.
33 Cadmium Chromium(III) Selendie, CdCr2Se4.
34 Growth of Cobalt Disulfide Single Crystals.
35 Chalcogenide Halides of Copper, Gold, Mercury, Antimony, and Bismuth.
IV Phosphides and Silicides.
36 Pyrite Type of Silicon Diphosphide.
37 Single Crystals of Iron Monophosphide.
38 Copper-Solvent Flux Growth of Manganese Monosilicide.
39 Single-Crystal Cerium Hydrides.
Index of Contributors.
Subject Index.
Formula Index.