Inorganic Syntheses, Volume 18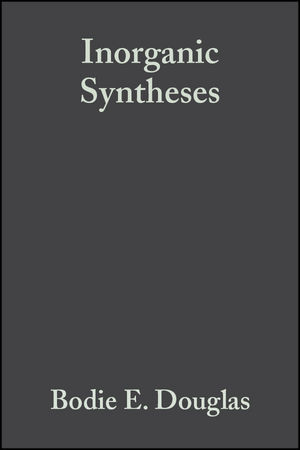 Inorganic Syntheses, Volume 18
ISBN: 978-0-470-13284-5 September 2009 238 Pages
Download Product Flyer
Download Product Flyer
Download Product Flyer is to download PDF in new tab. This is a dummy description. Download Product Flyer is to download PDF in new tab. This is a dummy description. Download Product Flyer is to download PDF in new tab. This is a dummy description. Download Product Flyer is to download PDF in new tab. This is a dummy description.
Description
The volumes in this continuing series provide a compilation of current techniques and ideas in inorganic synthetic chemistry. Includes inorganic polymer syntheses and preparation of important inorganic solids, syntheses used in the development of pharmacologically active inorganic compounds, small-molecule coordination complexes, and related compounds. Also contains valuable information on transition organometallic compounds including species with metal-metal cluster molecules. All syntheses presented here have been tested.
Table of contents
Notice to Contributors.
Toxic Substances.
Chapter One MACROCYCLIC LIGANDS AND THEIR METAL COMPLEXES.
1. 5,7,7,12,14, 14-Hexamethyl -1,4,8, 11-tetraazacyclotetradeca-4,11 -diene (5,7,7,12,14,14-Me6[14] -4,11-diene -1,4,8,11-N4) Complexes.
2. 5,5,7,12,12, 14-Hexamethyl -l,4,8,11-tetraazacyclotetradecan (5,5,7,12,12,14 -Me6[14] ane-1,4,8,11-N4) Complexes.
3. 2,12-Dimethyl-3,7,11, 17-tetraazabicyclo [11,3,1] heptadeca-1(17),2,11,13,15 -pentaene (2,6-Me2-2',6':3,5-Pyo [14]-1,3,6-triene-1,4,7,11-N4) Complexes.
4. 2,3,9,10-Tetramethyl-1,4,8,11 -tetraazacyclotetradeca -l,3,8,10 -tetraene (2,3,9,10-Me4[14] -1,3,8,10-tetraene-l,4,8,11-N4) Complexes.
5. 2,3-Dimethyl-1,4,8,11 -tetraazacyclteotradeca-l,3-diene (2,3-Me2[141-1,3-diene-1,4,8,11-N4) Complexes.
6. Tetrabenzo [b,f,j,n] [1,5,9,13] tetraazacyclohexadecine (2,3; 6,7; 10,11; 14,15-Bzo[16] octaene-1,5,9,13-N4) Complexes.
7. Macrocyclic Tetraazatetraenato Ligands and Their Metal Complexes.
8. Nontemplate Syntheses of Complexes with Conjugated Macrocyclic Ligands.
9. Template Syntheses of Complexes with Partially Unsaturated Macrocyclic Ligands .
Chapter Two METAL CARBONYL COMPLEXES.
10. Molydenenum(II) Carbonyl Complexes Containing Thio Ligands and Acetylene.
11. Tris[cis-[diacetyltetracarbonylmanganese]] aluminum.
12. Dodecacarbonylte tra-µ-hydrido-tetrahedro-tetrarhenium.
13. Carbonyl Trimethylphosphine Iridium(I) Complexes.
Chapter Three OTHER COORDINATION COMPOUNDS.
14. Complexes of Cobalt Containing Ammonia or Ethylenediamine.
15. Tetraammine and Bis(ethylenediamine) Complexes of Chromium(III) and Cobalt(III).
16. The Resolution of Bis(ethylenediamine) oxalatocobalt(III) Ion and Its Use as a Cationic Resolving Agent.
17. Ethylenediamine-N,N'-diacetic Acid Complexes of Cobalt(III).
18. Transition Metal Complexes of Bis(trimethylsilyl)amine.
19. Bis(triphenylphosphine)platinum Complexes.
20. Sulfur Nitride Complexes of Nickel.
21. (n5-Cyclopentadienyl)nitrosyl Complexes of Chromium, Molybdenum, and Tungsten.
22. Recovery of Iridium from Laboratory Residues.
Chapter Four A PHOSPHORUS YLIDE AND SOME OF ITS METAL COMPLEXES.
23. Timethylphosphonium Methylide.
24. Ylide Complexes of Some IB and IIB Metals.
Chapter Five BORON AND ALUMINUM COMPOUNDS.
25. Halodiboranes(6) and HaIodiboranes(6)-d5.
26. Sodium Dihydridobis (2-methoxyethoxo) aluminate(1-).
Chapter Six GERMANIUM HYDRIDE DERIVATIVES.
27. Bromotrimethylgermane.
28. Dimethylgermane and Monohalodimethylgermanes.
29. Iodogermane, Digemylcarbodiide, Digermyl Sulfide, and Thio Germanes.
Chapter Seven PHOSPHORUS COMPOUNDS.
30. Tertiary Phosphines.
31. tert-Butyl(fluoro)phosphines and Their Transition Metal Complexes.
32. (Dialkylamino) Fluoro Phosphoranes.
33. 4-(Ethylphenylphosphino)-1-butanol and 1-Ethyl-1-phenyiphospholanium Perchlorate.
34. Bromo Fluoro Cyclotriphosphazenes.
Chapter Eight SULFUR COMPOUNDS.
35. Silver(I) Sulfamate.
36. Heptathiazocine and Tetrabutylammonium Tetrathionitrate.
Index of Contributors.
Subject Index.
Formuln Index.