Inorganic Syntheses, Volume 19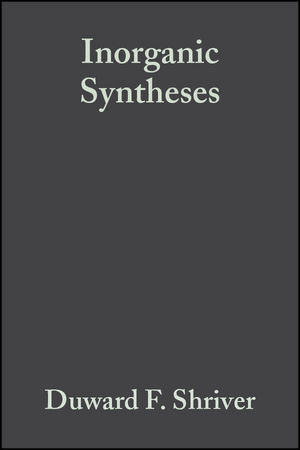 Inorganic Syntheses, Volume 19
ISBN: 978-0-470-13250-0
Jan 2007
327 pages
Description
The volumes in this continuing series provide a compilation of current techniques and ideas in inorganic synthetic chemistry. Includes inorganic polymer syntheses and preparation of important inorganic solids, syntheses used in the development of pharmacologically active inorganic compounds, small-molecule coordination complexes, and related compounds. Also contains valuable information on transition organometallic compounds including species with metal-metal cluster molecules. All syntheses presented here have been tested.
Chapter One ELECTRICALLY CONDUCTING SOLIDS.
1. Potassium Tetracyanoplatinate Bromide (2:1:0.3) Trihydrate, K2[Pt(CN)4]Br0.3 3H2O.
2. CatiomDeficient, Partially Oxidized Tetracyanoplatinates.
3. Guanidium Tetracyanoplatinate Bromide (2:1:0.5) Hydrate, [C(NH2)3]2 [Pt(CN)4] Br0.25 H2O.
4. Electrochemical Syntheses of Partially Oxidized Platinum Complexes.
5. Linearchain Iridium Carbonyl Halides.
6. Polymercury Cations.
7. 2,2'-Bi-1,3-Dithiolytidene (Tetrathiafulvalene, TTF) and Its Radical Cation Salts.
8. Tantalum Disulfide (TaS2) and Its Intercalation Compounds.
9. Platinum Disulfide and Platinum Ditelluride.
10. Substituted β-Aluminas.
Chapter Two METAL ATOM SYNTHESES.
11. Introduction to Metal Atom Syntheses.
12. Bis[1,3-bis (trifluoromethyl)benzene] chromium(0) [1,3-(CF3)2C6H4]2Cr.
13. Bis(pentafluorophenyl)((η6-toluene)nickel(II).
14. Tetrachlorodiborane(4) (Diboron Tetrachloride).
15. An Active Cadmium-Toluene Slurry and Its Use in the Preparation of Ethyliodocadmium.
16. Bis(η6-Chlorobenzene) molybdenum, Bis(η6-N-N-dimethylaniline) molybdenum and (1-3:6-7:-12η-2,6,10 -Dodecatriene-1,12-diyl)nickel.
Chapter Three TRANSITION METAL COMPOUNDS AND COMPLEXES.
17. Hydrido (triphenylphosphine) copper(I).
18. Tetrakis(acetonitrile)copper(I) Hexafluorophosphate.
19. Coordination Complexes of Copper(I) Nitrate.
20. (Dimethyl Phosphito) Complexes of Platinum(II).
21. Two-Coordinate Phosphine Complexes of Palladium(0) and Platinum(0).
22. Three-Coordinate Phosphine Complexes of Platinum(0).
23. Tetrakis(triethylphosphine)platinum(0).
24. Barium Tetracyanoplatinate(II) Tetrahydrate.
25. Trans Phosphine Complexes of Platinum(II) Chloride.
26. Tris(ethylenediamine)ruthenium(II) and Tris(ethylenediamine)ruthenium(III) Complexes.
27. Manganese Diphosphate (Manganese Pyrophosphate).
28. Electrochemical Synthesis of Chromium(III) Bromide; A Facile Route to Chromium(III) Complexes.
29. Dinuclear Molybdenum Complexes.
30. (2,2'-Bipyridine) trichlorooxomolybdenum(V).
31. Metal Pentafluorides.
32. Sodium and Ammonium Decavanadates(V).
33. cis-[Dihalobis (2,4-pentanedionato) titanium(IV)] Complexes.
Chapter Four TRANSITION METAL ORGANOMETALLIC COMPOUNDS.
34. Bis(η8-cyclooctatetraene) uranium(IV).
35. (η6-Arene) tricarbonylchromium Complexes.
36. Pentacarbonylmanganese Halides.
37. Methylene (Carbene) Complexes of Transition Metals.
38. Methylidyne (Carbyne) Complexes . trans-(Bromotetracarbonyl(phenylmethyl-idyne)tungsten].
39. Isocyanide and Methylene (Carbene) Complexes of Platinum(II).
40. Pentacarbonyl (dihydro-2(3H)-furanylidene)chromium(0), (CO)5Cr(C4H5O).
41. Pentacarbonyl (diphenylmethylene) tungsten(0).
42. Thiocarbonyl Complexes of Tungsten(0).
43. Cyclopentadienyl(manganese) Thiocarbonyls.
44. Dicarbonyl (η5-cyclopentadienyl) (selenocarbonyl) manganese(I).
45. Arene Thiocarbonyl Chromium(0) Complexes.
46. trans-[Chloro (thiocarbonyl) bis (triphenylphosphine) rhodium(I)].
47. trans-[Chloro (thiocarbonyl) bis (triphenylphosphine) iridium(I)].
48. (η5-Cyclopentadienyl) nitrosyl Chromium, Molybdenum, and Tungsten Complexes.
49. Olefin Complexes of Platinum.
50. Di-μ-chloro-bis (η4-1,5-cyclooctadiene)dirhodium(I).
51. (η3-Allyl)palladium(II) Complexes.
52. (η5-Cyclopentadienyl) hydridozirconium Complexes.
53. Tetracarbonyl [octahydrotriborato(l-)] manganese, (CO)4Mn(B3H8).
Chapter Five MAIN GROUP COMPOUNDS.
54. Dihydro(isocyano) (trimethylamine)boron.
55. I-Methyldiborane(6).
56. 1,6-Diboracyclodecane, B2H2(C4H8)2.
57. Tetrabutylammonium μ-Hydro-dihydro- bis-(μ-tetramethylene)-diborate (l-), [(C4H7)4N] [B2H3(C4H8)2].
58. Hexaborane(10).
59. Dimethylzinc.
60. Electrochemical Synthesis of Indium(III) Complexes.
61. BisI(trimethylsilyl)methyl] magnesium.
62. Dodecamethylcyclohexasilane.
63. Iodosilane and Its Methyl Derivatives.
64. Silyl Sulfides.
65. Crystalline Polyammonium Catena-Polyphosphate.
Correction.
Index of Contributors.
Subject Index.
Formula Index.