Inorganic Syntheses, Volume 22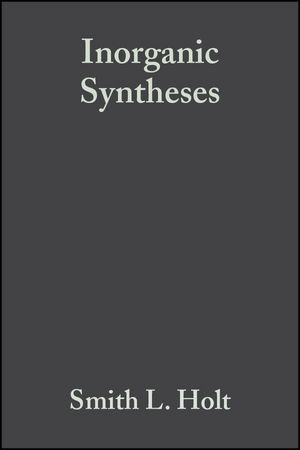 Inorganic Syntheses, Volume 22
ISBN: 978-0-470-13288-3
Sep 2009
278 pages
Description
The volumes in this continuing series provide a compilation of current techniques and ideas in inorganic synthetic chemistry. Includes inorganic polymer syntheses and preparation of important inorganic solids, syntheses used in the development of pharmacologically active inorganic compounds, small-molecule coordination complexes, and related compounds. Also contains valuable information on transition organometallic compounds including species with metal-metal cluster molecules. All syntheses presented here have been tested.
Chapter One SOLID STATE.
1. Ternary Chlorides and Bromides of the Rare Earth Elements.
2. Quaternary Chlorides and Bromides of the Rare Earth Elements: Elpasolites A12B1RE111X6 (r(A1) > r(B1)).
3. Tantalum as a High-Temperature Container Material for Reduced Halides. 
4. Cesium Scandium(II) Trichloride.
5. Zirconium Monochloride and Monobromide.
6. Lanthanum Triiodide (And Other Rare Earth Metal Triiodides).
7. Lanthanum Diiodide.
8. Trichlorides of Rare Earth Elements, Yttrium, and Scandium.
9. Single Crystal Growth of Oxides by Skull Melting: The Case of Magnetite (Fe3O4).
10. Lithium Nitride, Li3N.
11. The Alkali Ternary Oxides AxCoO2 and AxCrO2 (A = Na, K).
12. Zeolite Molecular Sieves.
13. Lead Ruthenium Oxide, Pb2 [Ru2-xPb4+x]O6.5.
14. Calcium Manganese Oxide, Ca2Mn3O8.
15. Synthesis of Silver Tetratungstate.
16. Cadmium Mixed Chalcogenides and Layers of Cadmium (Mixed) Chalcogenides on Metallic Substrates.
17. Layered Intercalation Compounds.
18. Iron Titanium Hydride (FeTiH1.94).
19. Aluminum Lanthanum Nickel Hydride.
Chapter Two TRANSITION METAL COMPLEXES AND COMPOUNDS.
20. Purification of Copper(I) Iodide.
21. Cobalt(III) Amine Complexes with Coordinated Trifluoromethanesulfonate.
22. 2,9-Dimethyl -3,10-diphenyl-l,4,8,11 -tetraazacyclotetradeca -1,3,8,10-tetraene, (Me2Ph2 [14]-1,3,8,10 -tetraeneN4) Complexes.
23 Dichlorobis(3,3',3" -phosphinidynetripropionitrile) nickel(II) and Dibromobis (3,3',3" -phosphinidynetripropionitrile) nickel(II) Monomers and Polymers.
24. Polymer-stabilized Divanadium.
25. Triamminechloroplatinum(II) Chloride.
26. Chlorotris(dimethylsulfide)platinum(II) Compounds.
27. Tetrabutylammonium Trichloro (dimethylsulfide) platinum(II).
Chapter Three MAIN GROUP, LANTHANIDE, ACTINIDE, AND ALKALI METAL COMPOUNDS.
28. Tributyl Phosphorotrithioite (C4H3S)3P from Elemental Phosphorus.
29. Preparation of Dimethylphenylphosphine.
30. Electrochemical Synthesis of Salts of Hexahalodigallate (II) and Tetrahalogallate(III) Anions.
31. Polymeric Sulfur Nitride (Polythiazyl), (SNx).
32. Pyridinium Hexachloroplumbate(IV).
33. Bis[(4,7,13,16,21,24 -hexaoxa -l,l0 -diazabicyclo[8.8.8.] hexacosane) potassium] Tetrabismuth (2-).
34. [5,10,15,20-Tetraphenylporphyrinato(2-l)] Lanthanides and Some [5,10,15,20-Tetraphenylporphyrinato(2-l)] Actinides.
35. [μ-Nitrido-bis(triphenylphosphorus)] (1+) Tricarbonylnitrosylferrate (1-) and [μ-Nitrido-bis (triphenylphosphorus)] (1+) Decacarbonyl-μ-nitrosyl-triruthenat(1-), [(Ph3P)2N] [Fe(CO)3(NO)] and [(Ph3P)2N] [Ru3(CO)10(NO)].
36. Metallacyclopentane Derivatives of Palladium.
37. Metallacyclopentane Derivatives of Cobalt, Rhodium, and Iridium.
38. Cycloolefin Complexes of Ruthenium.
39. Mononuclear Pentacarbonyl Hydrides of Chromium, Molybdenum, and Tungsten.
Chapter Five COMPOUNDS OF BORON.
40. [(2,2-Dimethylpropanoyl) oxy] diethylborane, ((Pivaloyloxy) diethylborane).
41. Tetraethyldiboroxane.
42. Diethylmethoxyborane, (Methyl diethylborinate).
43. Diethylhydroxyborane, (Diethylborinic acid).
44. Bis [μ-(2,2-dimethylpropanoato-O, O)]-diethyl-μ-oxo-diboron.
45. Alkali Metal (Cyclooctane-l,5-diyl) dihydroborates(1-).
46. Decaborane(14).
47. Dichlorophenylborane.
48. (Dimethy1amino)diethylborane.
49. 2,3-Diethyl-2,3-dicarba-nido-hexaborane(8).
50. 2, 2',3, 3'-Tetraethyl-1,1-dihydro- [1,1'-commo-bis(2,3-dicarba-1-ferra-closo-heptaborane)] (12), [2,3-(C2H5)2C2B4H4]2 FeHz2, and 2,3,7,8-Tetraethyl-2,3,7,8 -tetracarbadodecaborane(12), (C2H5)4C4B8H8.
51. [10B]-Labeled Boron Compounds.
52. The Thiadecaboranes arachno- [6-SB9H12]-, nido-6-SB9H11, and closo-1-SB9H9.
53. Potassium Dodecahydro-7-8 -dicarba-nido-undecabora(1-), K[7,8-C2B9H12], Intermediates, Stock Solution, and Anhydrous Salt.
54. 3-(η5-Cyclopentadienyl) -1,2-dicarba-3-cobalta -closo-dodecaborane(11), 3-(η5-C5H5)-3-Co-1, 2-C2B9H11.
55. 2,6-Dicarba-nido-nonaborane(11), 2, 6-C2B7H11.
56. 9-(Dimethyl sulfide)-7,8 -dicarba-nido-undecaborane(11), 9-[(CH3)2S]-7,8-C2B9H11.
57. Direct Sulfhydrylation of Boranes and Heteroboranes, 1,2, -Dicarba-closo-dodecaborane(12) -9-thiol, 9-HS-1, 2-C2B10H11.
Index of Contributors.
Subject Index.
Formula Index.