Inositol Phospholipid Signaling in Physiology and Disease, Volume 1280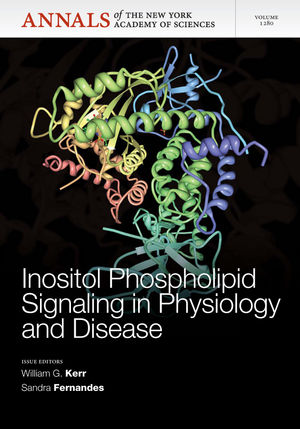 Inositol Phospholipid Signaling in Physiology and Disease, Volume 1280
ISBN: 978-1-573-31891-4
Apr 2013, Wiley-Blackwell
252 pages
Description
A recent upsurge of research examining inositol phospholipids (IP)—membrane-bound species fundamental to cell signaling—continues underscore the role of this pathway in both normal and disease-associated cellular physiology.  This volume includes a selection of cutting-edge, multidisciplinary reports borne out of the conference "Inositol Phospholipid Signaling in Physiology and Disease" held June 26–27, 2012 at the New York Academy of Sciences in New York City.  Papers include important developments investigating IP signaling in immunology, cancer, inflammation, and metabolic disorders.
NOTE: Annals volumes are available for sale as individual books or as a journal. For information on institutional journal subscriptions, please visit: http://ordering.onlinelibrary.wiley.com/subs.asp?ref=1749-6632&doi=10.111/(ISSN)1749-6632.
ACADEMY MEMBERS: Please contact the New York Academy of Sciences directly to place your order (www.nyas.org). Members of the New York Academy of Science receive full-text access to Annals online and discounts on print volumes. Please visit http://www.nyas.org/MemberCenter/Join.aspx for more information on becoming a member.
Introduction to Inositol Phospholipid Signaling in Physiology and Disease v
William G. Kerr and Sandra Fernandes
Phosphoinositide 3-kinase and INPP4B in human breast cancer 1
Micka C. Bertucci and Christina A. Mitchell
Role of SHIP1 in cancer and mucosal inflammation 6
Sandra Fernandes, Sonia Iyer, and William G. Kerr
Role of SHIP1 in bone biology 11
Sonia Iyer, Bryan S. Margulies, and William G. Kerr
Achieving cancer cell death with PI3K/mTOR-targeted therapies 15
Sung Su Yea and David A. Fruman
Challenges in the clinical development of PI3K inhibitors 19
Cristian Massacesi, Emmanuelle di Tomaso, Nathalie Fretault, and Samit Hirawat
Rules of engagement: distinct functions for the four class I PI3K catalytic isoforms in immunity 24
Klaus Okkenhaug
Control of T cell tolerance by phosphatase and tensin homolog 27
Alexandria Huynh and Laurence A. Turka
Role of PI3K/Akt and mTOR complexes in Th17 cell differentiation 30
Shigenori Nagai, Yutaka Kurebayashi, and Shigeo Koyasu
Targeting phosphoinositide 3-kinase δ for the treatment of respiratory diseases 35
Srividya Sriskantharajah, Nicole Hamblin, Sally Worsley, Andrew R. Calver, Edith M. Hessel, and Augustin Amour
Phosphoinositide 3-kinase gamma in T cell biology and disease therapy 40
Wai-Ping Fung-Leung
Inhibition of phosphoinositide 3-kinase γ attenuates inflammation, obesity, and cardiovascular risk factors 44
Matthias P. Wymann and Giovanni Solinas
Class III PI3K Vps34: essential roles in autophagy, endocytosis, and heart and liver function 48
Nadia Jaber and Wei-Xing Zong
Inpp4b is a novel negative modulator of osteoclast differentiation and a prognostic locus for human osteoporosis 52
Jean Vacher