Inquiring After God: Classic and Contemporary Readings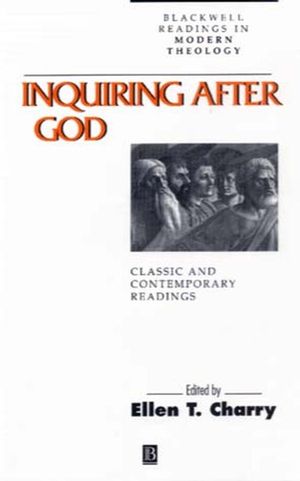 Inquiring After God: Classic and Contemporary Readings
ISBN: 978-0-631-20543-2
Feb 2000, Wiley-Blackwell
376 pages
Description
Instead of introducing students to Christian theology through its doctrines, this text introduces it through discussion of church practices and of the experience of everyday Christian life.
Part I: Christian Catechesis: Initial Formation:
.
1. Inquiring After God When Instructing Beginners: Elucidating the Creed.
Text: Catechetical Oration of Gregory Nazianzus or Gregory of Nyssa.
2. Inquiring After God When Meditating on Scripture: Practicing God's Word.
Text: Bernard of Clairvaux - selected Sermons on the Song of Songs, or Luther's or Calvin's commentaries.
3. Inquiring After God Through Prayer.
Text: Maximus Conessor On the Our Father.
4. Inquiring After God Through the Sacraments: Tasting the Kingdom.
Text: Tertullian or Cyril of Jerusalem Mystagogical Catechesis.
5. Inquiring After God When Preaching.
Text: Augustine's Homilies.
Part II: Ongoing Formation: Practicing the Christian Life: .
6. Inquiring After God Through Art: Learning of God and Living With the Saints.
Text: Theodore the Studite on The Holy Icons.
7. Inquiring After God Through Experience: Appropriating and Correcting the Faith of the Church.
Text: Julian of Norwich Showings.
8. Inquiring After God Through Christian Living: Imitating Christ as Ministry.
Text: William Law or John Wesley.
9. Inquiring After God Through Creation: Reasoning as God's Creature.
Text: Thomas Aquinas Selection from the Summa Theologiae.
"Charry's organization of these classic and contemporary readings is intellectually, spiritually, and practically compelling ... This collection will be helpful to a range of 'inquirers' and would also provide an excellent resource for college and seminary courses." Religious Studies Review
Pursues theological inquiry as a spiritual as well as an intellectual discipline.

Focuses on Christian practices over the centuries rather than on doctrines and their interrelations.

Offers a completely new approach for those coming to the discipline for the first time.

Brings together in one volume classic and contemporary discussions of Christian practices.