Inquiry-Guided Learning: New Directions for Teaching and Learning, Number 129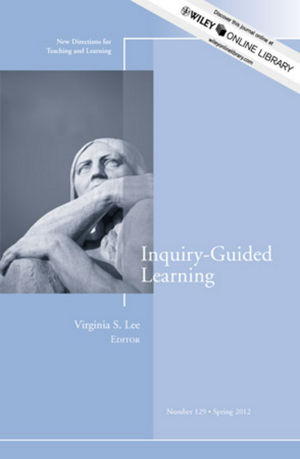 Inquiry-Guided Learning: New Directions for Teaching and Learning, Number 129
ISBN: 978-1-118-35489-6
Mar 2012, Jossey-Bass
128 pages
Description
Is inquiry-guided learning a universal answer for various teaching and learning ills in higher education?
With eight institutional case studies drawn from colleges and universities in English-speaking countries, this volume provides a clear description of inquiry-guided learning based on best practice. It also provides a window into the dynamics of undergraduate education reform using inquiry-guided learning, with a helpful final chapter that compares the eight institutions on key dimensions. This issue is a valuable resource for:
Institutions attempting undergraduate reform through inquiry-guided learning
Practitioners and scholars of inquiry-guided learning
Instructors seeking good texts for courses on higher education administration
Administrators seeking to understand and lead undergraduate education reform.
This is the 129th volume of this Jossey-Bass higher education series. New Directions for Teaching and Learning offers a comprehensive range of ideas and techniques for improving college teaching based on the experience of seasoned instructors and the latest findings of educational and psychological researchers.
Preface 1
Virginia S. Lee
1. What Is Inquiry-Guided Learning? 5
Virginia S. Lee
As a suite of teaching practices, inquiry-guided learning defies a simple prescription for practice. This chapter presents a variety of conceptual frameworks, models, and developmental rubrics, created by researchers and practitioners, as a necessary first stage of implementation.
2. Developing Inquiry-Guided Learning in a Research University in the United Kingdom 15
Philippa Levy
This chapter discusses central themes from a five-year institutional development program based on inquiry-guided learning that recur across the institutions represented in this volume.
3. Developing and Embedding Inquiry-Guided Learning Across an Institution 27
Martin Jenkins, Mick Healey
This chapter highlights the importance of developing conceptual frameworks for inquiry-guided learning as a necessary aspect of implementation.
4. Inquiry-Guided Learning in New Zealand: From an Appetizer to an Entrée 39
Billy O'Steen, Rachel Spronken-Smith
The chapter compares two approaches to inquiry-guided learning from a cross-institutional study in New Zealand.
5. Questions That Matter: Using Inquiry-Guided Faculty Development to Create an Inquiry-Guided Learning Curriculum 51
Lisa Carstens, Joyce Bernstein Howell
This chapter describes how an inquiry-driven faculty development process became a catalyst for curriculum reform using inquiry-guided learning.
6. Integrating Inquiry-Guided Learning Across the Curriculum: The Top 25 Project at Miami University 61
Beverley A. P. Taylor, Andrea I. Bakker, Marjorie Keeshan Nadler, Cecilia Shore, Beth Dietz-Uhler
This chapter describes a project initiated by the university's president to transform high enrollment classes using inquiry-guided learning.
7. Marymount University: Inquiry-Guided Learning as a Catalyst for Change 71
Carolyn Oxenford, Liane Summerfield, Michael Schuchert
This chapter describes the creation, implementation, and assessment of a systematic, campus-wide program of inquiry-guided learning.
8. The Power of Inquiry as a Way of Learning in Undergraduate Education at a Large Research University 81
Debra A. Fowler, Pamela R. Matthews, Jane F. Schielack, Robert C. Webb, X. Ben Wu
This chapter describes the process Texas A&M University used to introduce inquiry experiences earlier on in the undergraduate curriculum.
9. Lessons Learned: The McMaster Inquiry Story from Innovation to Institutionalization 93
Carl Cuneo, Del Harnish, Dale Roy, Susan Vajoczki
This chapter analyzes the enablers and challenges to institutionalization of inquiry-guided learning at McMaster University, a pioneer in the uses of inquiry as a way of learning.
10. Opportunities and Challenges in Institutionalizing Inquiry-Guided Learning in Colleges and Universities 105
Virginia S. Lee
This summary chapter compares the eight institutional case studies in the volume on key dimensions to highlight the dynamics of undergraduate reform through inquiry-guided learning.
INDEX 117