Insect Biodiversity: Science and Society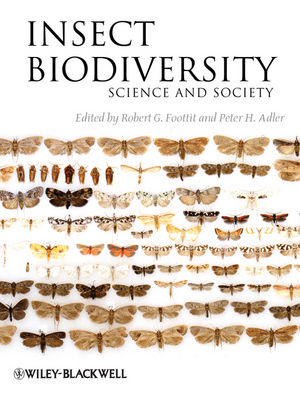 Insect Biodiversity: Science and Society
ISBN: 978-1-444-30821-1 March 2009 Wiley-Blackwell 656 Pages
Description
Insect Biodiversity: Science and Society brings together leading scientific experts to assess the impact insects have on humankind and the earth's fragile ecosystems. It examines why insect biodiversity matters and how the rapid evolution of insect species is affecting us all.


Insects and related arthropods make up more than 50 percent of the known animal diversity globally, yet a lack of knowledge about insects is hindering the advance of science and society. This book explores the wide variety in type and number of insect species and their evolutionary relationships. Case studies offer assessments on how insect biodiversity can help meet the needs of a rapidly expanding human population, and also examine the consequences that an increased loss of insect species will have on the world.


The book concludes that a better understanding of the biology and ecology of insects is the only way to sustainably manage ecosystems in an ever changing global environment.
Preface.
Acknowledgements.
1. Introduction Peter H. Adler and Robert G. Foottit.
2. The Importance of Insects G.G.E. Scudder.
Part I. Insect Biodiversity: Regional Examples.
3. Insect Biodiversity in the Nearctic Region Andrew B. T. Smith and Hugh V. Danks.
4. Amazonian Rainforests and Their Richness of Coleoptera, a Dominant Life Form in the Critical Zone of the Neotropics Terry L. Erwin and Christy J. Geraci.
5. Insect Biodiversity in the Afrotropical Region C.H. Scholtz and M.W. Mansell.
6. Biodiversity of Australasian Insects Peter S. Cranston.
7. Insect Biodiversity in the Palearctic Region Alexander S. Konstantinov, Boris A. Korotyaev and Mark G. Volkovitsh.
Part II. Insect Biodiversity: Taxon Examples.
8. Biodiversity of Aquatic Insects John C. Morse.
9. Biodiversity of Diptera G.W. Courtney, T. Pape, J.H. Skevington and B.J. Sinclair.
10. Biodiversity of Heteroptera Thomas J. Henry.
11. Biodiversity of Coleoptera P. Bouchard, V.V. Grebennikov, A.B.T. Smith and H. Douglas.
12. Biodiversity of Hymenoptera John T. Huber.
13. Lepidoptera Biodiversity Michael G. Pogue.
Part III. Tools and Approaches.
14. The Science of Insect Taxonomy: Prospects and Needs Quentin D. Wheeler.
15. Insect Species – Concepts and Practice Michael F. Claridge.
16. Molecular Dimensions of Insect Taxonomy Felix Sperling and Amanda Roe.
17. DNA Barcodes and Insect Biodiversity Robin M. Floyd, John J. Wilson, Paul D. N. Hebert.
18. Insect Biodiversity and Informatics Norman F. Johnson.
19. Parasitoid Diversity and Insect Pest Management John Heraty.
20. Taxonomy of Crop Pests: The Aphids Gary L. Miller and Robert G. Foottit.
21. Adventive Insects: A Global Overview Alfred G. Wheeler, Jr. and E. Richard Hoebeke.
22. Biodiversity of Biting Flies: Implications for Humanity Peter H. Adler.
23. Reconciling Ethical and Scientific Issues for Insect Conservation Michael J. Samways.
24. Insect Biodiversity: Assessment and Taxonomy Ke Chung Kim.
25. Insect Biodiversity — Millions and Millions May Berenbaum.
Taxonomic Index.
Subject Index
"There is much to do, and as Quentin Wheeler states in his chapter, "we do not yet know enough about insect diversity to characterize precisely the magnitude of our ignorance". Despite the challenges, this volume provides a comprehensive overview of our current knowledge. Tim New writes in his forward that he hopes that "some of the chapters will be key references as we progressively refine and enlarge our understanding". I feel that this book defines the baseline in this field at the beginning of the twenty-first century, and is destined to became an indispensable first port of
can
for any one initiating world in this field." (
Antenna,
2010)
"This book contains a vast amount of information and will be an important reference for years to come." (
CHOICE,
December 2009)"Recommended for anyone even remotely interested in insects and their ecological importance." (
Museum fur naturkunde
, 2010)
"This book is a highly original account, providing many new insights and new summarized data that should not be missing on the shelves of any entomologist, and also other biologists and naturalists can benefit from this volume." (Tijdschrift voor Entomologie, April 2009)


Leading world experts review insect taxonomy, biology and biodiversity science and the impact on mankind

Case studies reveal what is known and what remains unknown in the field of insect biodiversity

Explores ways the science of insect biodiversity can meet the needs of a rapidly expanding human society

Details the consequences of the rapid evolution of insects on the environment, the economy, and human population growth

An essential resource for naturalists and conservation workers