Insects and Wildlife: Arthropods and their Relationships with Wild Vertebrate Animals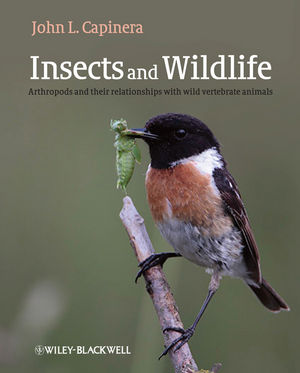 Insects and Wildlife: Arthropods and their Relationships with Wild Vertebrate Animals
ISBN: 978-1-444-35784-4 September 2011 Wiley-Blackwell 500 Pages
Description
Insects and Wildlife: Arthropods and their Relationships with Wild Vertebrate Animals
provides a comprehensive overview of the interrelationships of insects and wildlife. It serves as an introduction to insects and other arthropods for wildlife management and other vertebrate biology students, and emphasizes the importance of insects to wild vertebrate animals. The book emphasizes how insects exert important influences on wildlife habitat suitability and wildlife population sustainability, including their direct and indirect effects on wildlife health. Among the important topics covered are:
the importance of insects as food items for vertebrate animals;
the role of arthropods as determinants of ecosystem health and productivity;
the ability of arthropods to transmit disease-causing agents;
an overview of representative disease-causing agents transmitted by arthropods;
arthropods as pests and parasites of vertebrates;
the hazards to wildlife associated with using using pesticides to protect against insect damage;
insect management using techniques other than pesticides;
the importance of insect conservation and how insects influence wildlife conservation.
Table of contents
Preface.
Acknowledgments.
SECTION 1: INTRODUCTION TO THE ARTHROPODS.
CHAPTER 1 INSECTS AND THEIR RELATIVES.
CHAPTER 2 STRUCTURE AND FUNCTION OF INSECTS.
SECTION 2: FOOD RELATIONSHIPS.
CHAPTER 3 FOOD RESOURCES FOR WILDLIFE.
CHAPTER 4 WILDLIFE DIETS.
CHAPTER 5 INSECTS IMPORTANT AS FOOD FOR WILDLIFE.
CHAPTER 6 INSECTS AND ECOSYSTEMS.
SECTION 3: ARTHROPODS AS DISEASE VECTORS AND PESTS.
CHAPTER 7 TRANSMISSION OF DISEASE AGENTS TO WILDLIFE BY ARTHROPODS.
CHAPTER 8 INFECTIOUS DISEASE AGENTS TRANSMITTED TO WILDLIFE BY ARTHROPODS.
CHAPTER 9 PARASITIC DISEASE AGENTS TRANSMITTED TO WILDLIFE BY ARTHROPODS.
CHAPTER 10 ARTHROPODS AS PARASITES OF WILDLIFE.
SECTION 4: PEST MANAGEMENT AND ITS EFFECTS ON WILDLIFE.
CHAPTER 11 PESTICIDES AND THEIR EFFECTS ON WILDLIFE.
CHAPTER 12 ALTERNATIVES TO INSECTICIDES.
SECTION 5: CONSERVATION ISSUES.
CHAPTER 13 INSECT–WILDLIFE RELATIONSHIPS.
CHAPTER 14 INSECT AND WILDLIFE CONSERVATION.
Glossary.
Index.
Reviews
"It is highly informative and will be useful for entomologists, vertebrate biologists, and anyone interested in wildlife and insect conservation. Summing Up: Highly recommended. All levels/libraries." (CHOICE, September 2010)