Insensitive Semantics: A Defense of Semantic Minimalism and Speech Act Pluralism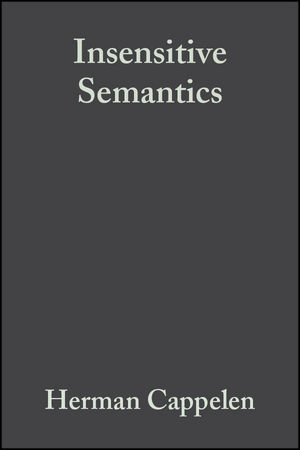 Insensitive Semantics: A Defense of Semantic Minimalism and Speech Act Pluralism
ISBN: 978-0-470-75579-2 January 2008 Wiley-Blackwell 232 Pages
Description
Insensitive Semantics is an overview of and contribution to the debates about how to accommodate context sensitivity within a theory of human communication, investigating the effects of context on communicative interaction and, as a corollary, what a context of utterance is and what it is to be in one.



Provides detailed and wide-ranging overviews of the central positions and arguments surrounding contextualism


Addresses broad and varied aspects of the distinction between the semantic and non-semantic content of language


Defends a distinctive and explanatorily powerful combination of semantic minimalism and speech act pluralism


Confronts core problems which not only run to the heart of philosophy of language and linguistics, but which arise in epistemology, metaphysics, and moral philosophy as well
Preface.
Acknowledgements.
1. Overview.
Part I: From Moderate to Radical Contextualism.
2. Exegesis: The Methodology of Contextualism.
3. The Instability of Context Shifting Arguments.
4. Diagnosis: Why Context Shifting Arguments are Misused.
5. The Instability of Incompleteness Arguments.
6. Digressions: Binding and Hidden Indexicals.
Part II: Refutation of Radical Contextualism.
7. Objections to Radical Contextualism (I): Fails Context Sensitivity Tests.
8. Objection to Radical Contextualism (II):Makes Communication Impossible.
9. Objections to Radical Contextualism (III): Internal Inconsistencies.
Part III: Semantic Minimalism and Speech Act Pluralism.
10. Semantic Minimalism.
11. Semantics and Metaphysics.
12. Semantics and Psychology.
13. Speech Act Pluralism.
References.
Index
"This book is an ingenious defense of two positions not widely thought to be compatible: truth-conditional semantics and semantic minimalism. Cappelen and Lepore's highly controversial views are already, and will continue to be, at the center of inquiry into the nature of linguistic communication."
Jason Stanley, University of Michigan
"Cappelen and Lepore have performed a singular service in bringing together the threads of the contextualist debate, and in formulating a minimalist alternative to some current trends." James Higginbotham, University of Southern California

"This is a pleasingly spare yet instructively sophisticated account of how Davidsonians can accommodate the massive context sensitivity of language use. Good stuff." Paul Pietroski, University of Maryland

"This is a book of considerable importance, which deals with a topic currently at the center of research in the philosophy of language. As a result, Insensitive Semantics has been and will continue to be widely discussed …This book pushes the discussion of context-sensitivity forward in new and useful directions. Read it and learn from it." Journal of Linguistics


Provides detailed and wide-ranging overviews of the central positions and arguments surrounding contextualism


Addresses broad and varied aspects of the distinction between the semantic and non-semantic content of language


Takes up the question of how to accommodate context sensitivity within a theory of human communication


Defends a distinctive and explanatorily powerful combination of semantic minimalism and speech act pluralism


Confronts core problems which not only run to the heart of philosophy of language and linguistics, but which arise in epistemology, metaphysics, and moral philosophy as well