Inside Every Woman: Using the 10 Strengths You Didn't Know You Had to Get the Career and Life You Want Now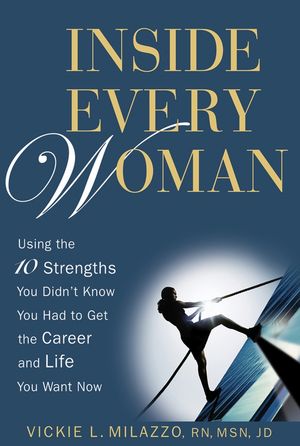 Inside Every Woman: Using the 10 Strengths You Didn't Know You Had to Get the Career and Life You Want Now
ISBN: 978-0-471-78518-7
May 2006
256 pages
Description
Embark on a passionate exploration of your life and career goals. Vickie Milazzo, a millionaire entrepreneur, shares intimate secrets of her successes and setbacks on the road to building a thriving business. You'll gain a life-time of insight as Inside Every Woman captivates and challenges you to uncover the 10 Feminine Forces you already possess. Vickie helps you harness those forces to seize the career and life you want now. You will:
* Ignite your inner fire with passion to reach exciting, new levels of growth
* Harness your intuitive vision to attain an audacious future
* Use the power of engagement to achieve big things
* Flex your feminine agility and stretch further than ever before
* Intensify your genius for accelerated achievement
* Live with uncompromising integrity to attract authentic success
* Energize your performance with endurance
* Apply the Feminine Force of enterprise to excel at being the CEO of your life
* Reclaim your life energy through renewal
* Activate female fusion by partnering with other women to attain the impossible


""Vickie Milazzo and the phenomenal success she has achieved for herself and others is astonishing. It doesn't matter what your life or career goals are, the 10 strengths she reveals Inside Every Woman will make it happen for you.""
--Dayna Steele, host of The Art of Doing Business on the BizRadio Network

""Vickie is an amazing woman who turned her ideas and dreams into a suc-cessful business.""
--Bill Rancic, The Apprentice

""If your life is less than perfect and your happiness falls short of complete, buck up and buy this book. It's stuffed with good advice, real-life stories and womanly wisdom.""
--Michelle Nichols, ""Savvy Selling"" columnist for BusinessWeek Online

Now a Wall Street Journal bestseller.
5 PROMISES.
Make These Promises to Unleash the 10 Forces Within You.
5 Promises Provide the Fuel.
Promise 1: I Will Live and Work a Passionate Life.
Promise 2: I Will Go for It or Reject It Outright.
Promise 3: I Will Take One Action Step a Day Toward My Passionate Vision.
Promise 4: I Commit to Being a Success Student for Life.
Promise 5: I Believe as a Woman I Really Can Do Anything.
Harness Your 10 Feminine Forces with the 5 Promises.
1. FIRE.
Ignite Your Inner Fire to Live Passionately.
Passion Fans the Flame of Success.
Let Your Passions Move You.
Discover Your Fire to Live Passionately.
Th e Passionate Path Isn't Quick and Easy.
Passion Doesn't Burn the Same for All Women.
Nine Strategies for Living Passionately.
Ignite Your Fire with the 5 Promises.
Evie's Fire.
2. INTUITIVE VISION.
Imagine Unlimited Possibilities to Capture Your Vision.
Order Off the Right Menu.
Show Up with No Guarantee.
Silence Arouses Imagination.
Trust Your Way Through the Chaos.
Imagination Trumps Knowledge.
Accelerate Achievement with Hypnagogic Imagery.
Hitch Your Vision to Your Passion.
Be Ready with Your Next Vision.
Capture Your Intuitive Vision with the 5 Promises.
Maggie's Vision.
3. ENGAGEMENT.
Engage Commitment to Achieve Big Things.
Ditch Perfectionism.
Engage Your Fears to Conquer Th em.
Break the "Feel-Good" Addiction.
Engage One Big Th ing at a Time.
Engage in What's Right, Not What's Easy.
Engage the Details.
Shrug Off Restrictions.
Be Your Own Lottery.
Don't Be a Commitment Queen.
Engage to Achieve Big Things with the 5 Promises.
Leigh's Engagement.
4. AGILITY.
Flex Your Agility to Grab New Opportunities.
Shake It Up.
Flex Your Curiosity.
Challenge a Fixed Viewpoint.
Stretch to Intensify Agility.
Dive Deeper Every Day.
Agility Is a Two- Minute Investment.
Schedule an Agility Break.
Don't Be a Relic of Past Splendor.
Leave Your Old Comforts at Home.
Flex Your Agility with the 5 Promises.
Blanche's Agility.
5. GENIUS.
Intensify Your Intelligence for Accelerated Success.
Women Ingeniously Collaborate.
Collaboration Is Collective Genius.
Genius Hears Other Voices.
Remove Your Own Burrs.
Genius Is Trusting Your Own Voice.
Genius Multiplies Itself.
Genius Combines IQ and Hard Work.
Employ the Genius of Einstein.
Intensify Your Genius with the 5 Promises.
Chris's Genius.
6. INTEGRITY.
Practice Uncompromising Integrity for Authentic Success.
Breaching Integrity Betrays Opportunity.
Every Act Counts.
Consensus on Integrity Is Elusive.
Every Promise Counts.
Put Your Integrity Where Your Mouth Is.
Do the Right Thing When No One Is Looking.
Refuse to Be an Integrity Victim.
Avoid the Lure of Manipulation.
Live Authentic Success.
Practice Uncompromising Integrity with the 5 Promises.
Jan's Integrity.
7. ENDURANCE.
Fuel Your Endurance to Energize Your Performance.
Keep Dancing Your Passionate Vision.
Fuel Your Endurance with Persistence.
Fuel Endurance with Incremental Payoffs.
Fuel Endurance with the Right Focus.
Endure for the Fun of It.
Take to the Air Like a Butterfly.
Fuel Your Endurance with Fire.
Harvest Energy to Increase Your Endurance.
10 Strategies for Building Your Endurance Muscles.
Fuel Your Endurance with the 5 Promises.
Susan's Endurance.
8. ENTERPRISE.
Become the CEO of Your Career and Life.
Be First at the River to Get a Drink.
Satisfy Your Thirst at the River of Choice.
Venture Out from a Solid Foundation.
Assemble an Extraordinary Framework.
Act Like a CEO.
Become the CEO of Your Career and Life with the 5 Promises.
Martha's Enterprise.
9. RENEWAL.
Reclaim Your Life Energy Th rough Frequent Renewal.
Renew Your Relationship with Yourself.
Renew Your Physical Energy Daily.
Replenish Your Emotional Energy.
Nurture and Renew Your Spirit.
Recharge Your Mental Energy.
Celebrate to Intensify Renewal.
Renew Your Energy with the People You Love.
Renew by Giving Back.
Six Additional Strategies for Total Renewal.
Reclaim Your Life Energy with the 5 Promises.
Lindsay's Renewal.
10. FEMALE FUSION.
Fuse with Incredible Women to Attain the Impossible.
The Story of the First Female Fusion.
Th ree Stories of Women Forever Changed.
Female Fusion Is a Protective Caprock.
Fusion Is More Th an a Women's Group.
Fusion Needs Heat.
Female Fusion Requires Purpose.
The Basic Fusion Format Is Simple.
Activate Your First Fusion.
Spark Fusion Throughout the Entire Group.
Unleash Boundless Fusion Energy.
Have Fun with Fusion as You Attain the Impossible.
Activate Female Fusion with the 5 Promises.
Vickie's Fusion.
Inside Every Woman Is a Lifelong Adventure.
About the Author.