Inside Information: Making Sense of Marketing Data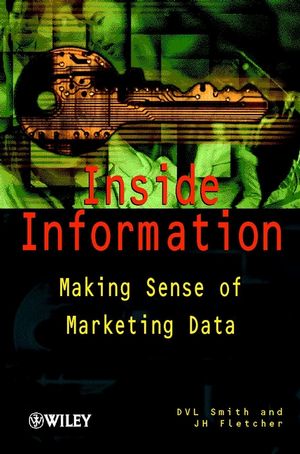 Inside Information: Making Sense of Marketing Data
ISBN: 978-0-470-84504-2
Nov 2000
272 pages
Description
The marketing information available to us doubles every five years. Increasingly, not only will marketing organizations have more access to data, but a lot of this information will be its own internal data, rather than information being supplied by an external market research agency.
In the future the successful marketing executives will be those who can quickly assimilate the plethora of incoming information about their markets and their customers, and from this information see the ""big picture"" and then take intelligent action. In the new Millennium, those who survive and flourish in marketing will be those who can quickly identify the 'messages' that are often hidden deep in their market and customer information. People who can see 'shapes and patterns' in data will be the ones who will successfully change and improve their organizations. The successful will be those who can quickly reject extraneous information and identify the overarching trends and themes that can be detected from different combinations of marketing evidence. Those who fail will be those who are overwhelmed with the minutia of information and are unable to get on top of what this growing mountain of marketing information is really telling them.
This book provides the way forward for all marketers faced with the above challenges. It highlights the basic principles about information, acknowledging the fact that we are entering a new era that is well away from the old fashioned model of a market research agency supplying survey type data. Increasingly, this process will be replaced with a much more instantaneous process where data from different sources - internal and external - are quickly fired at the marketer, with he/she being expected to make immediate sense of it. Inside Information is one of the first to respond to this new information era for understanding information. The book is a user friendly, very accessible book for the marketing manager who needs to process mountains of marketing information, but who will not have the time, or inclination to read detailed texts.
Foreword by Andrew McIntosh.

Preface.

Acknowledgements.

Mastering Twenty-First-Century Information.

Acquiring Effective Information Habits.
A Primer in Qualitative Evidence.
Understanding Survey Data.
Designing Actionable Research.
Holistic Data Analysis.
Information-Based Decision-Making.
Bibliography.
Index.
""...extremely practical...if you're planning to buy research...this will give you all the ammunition you need...well worth a read."" (Admap, December 2001)
Allows marketers to draw on market research theory to make practical and informed strategic decisions
Provides easy ways to navigate the information maze - using existing knowledge to make material manageable
Packed with helpful checklists, insights, anecdotes, vignettes, case studies and action points