Inside Secrets to Venture Capital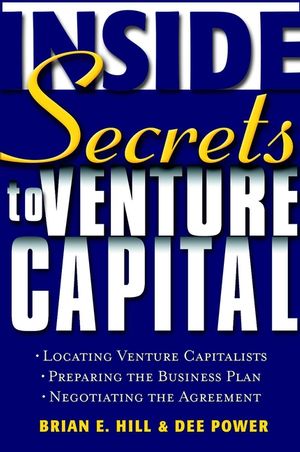 Inside Secrets to Venture Capital
ISBN: 978-0-471-41406-3 April 2001 304 Pages
Description
The inside story on finding the capital your business needs to grow

When it comes to finding capital--and the right investors for your business--entrepreneurs need all the help they can get. Brian Hill and Dee Power spent three years surveying 250 venture capital firms to find out what venture capitalists look for when putting their money in young businesses. Their results will give you all the tools you need to make smart decisions and avoid pitfalls and unnecessary risks, including:

* How to create and present a business plan to investors

* Profiles of venture capitalists in action

* Enlightening true tales in venture capital

* How to organize a quality management team to attract investors

* The truth about referrals

* Tips on valuing your company realistically

* Doing due diligence: scams, vultures, and bottom feeders

* Negotiating the best terms for you and your business

Inside Secrets to Venture Capital will show you what it takes to attract the investors and the money you need to grow. It's everything you need to know to play the venture capital game--and win . . .
Preface: Venture Capital: Make No Mystique About It.

What Is Venture Capital?

Where Is the Industry Going?

Your Search for Venture Capital.

Presenting a Business Plan to Investors.

What Do Venture Capitalists Think of the Business Plans They Receive?

The Capital Crapshoot.

Earthbound Angels.

Venture Capital Decision Making.

No, It's Not Location, Location, Location, But It Is Management.

Finding Investors Where They Work and Play.

Getting to the Big Show: Venture Capital Conferences.

Do Referrals Open Doors?

Intermediaries and Other Wild Things.

So Many Venture Capitalists, So Little Time.

Confidentialty: Prudence or Paranoia?

The First Date: Meeting with Venture Capitalists.

Valuing Your Company: A Small Dose of Reality.

Due Diligence: A Two-Way Street.

Give a Little, Get a Lot: Negotiating.

Closing the Deal and Living Happily Ever After.

Putting It All Together.

Final Thoughts: You Can Get There from Here.

Words of Encouragement and Advice.

Index.