Inside Teams: How 20 World-Class Organizations Are Winning Through Teamwork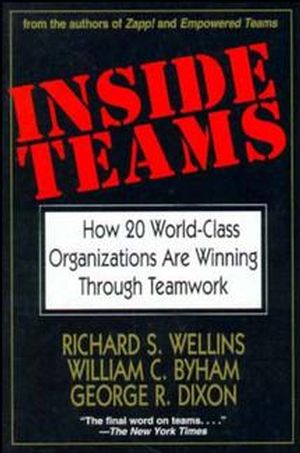 Inside Teams: How 20 World-Class Organizations Are Winning Through Teamwork
ISBN: 978-0-787-90245-2
Feb 1996, Jossey-Bass
378 pages
Description
Team power revealed through real-world examples of success

This book gives you a real-world perspective on using teams to reengineer your organization. You'll discover what it takes to achieve aggressive and challenging goals for quality, productivity, and cost-effectiveness.

Inside Teams covers:


* Using teamwork to redesign core processes
* Making teams work in union and non-union facilities
* Building teams from the ground up
* And more!


Go behind the scenes with Colgate-Palmolive, Miller Brewing, Company, Wilson Sporting Goods, and others and prepare your organization for reengineering through teamwork.
1. Introduction: A Guide to Benchmarking World-Class Work Teams.

Part One: Start-Up and Early Stages.

1. Focusing on the Patient to Meet the Challenges of Health Care Reform, Cape Coral Hospital.

2. The Evolving Role of Leadership in Creating Flexible, Productive Teams, Development Dimension International.

3. Keeping in Step with a Rapidly Changing Market, K Shoes, Ltd.

4. Building Teams from the Ground Up by Developing New Team Skills, Miller Brewing Company.

5. Streamlining Business Processes to Stay Competitive, Mine Safety Appliances Company.

6. Making a Commitment to Involve Everyone in the Change, Pzifer, Inc.

7. Using Teamwork to Redesign Core Processes, Sterling Winthrop, Ltd.

8. Driving Reengineering Through Empowered Teams, UCAR Carbon.

Part Two: Experienced and Maturing Stages.

9. Teams in Fast Forward: Building Commitment Quickly, Ampex Systems.

10. Gaining Business Focus Through Mini-Enterprise Units, Bord na MonaPeat Energy Division.

11. The Plant Start-Up That Became the Model for High-Performance Teams, Colgate-Palmolive Company.

12. Making Teams Work in Union and Nonunion Facilities, Hannaford Brothers Company.

13. Project-Based Teams: Creating Flexibility and Focus in a Matrix Environment, Harris Corporation.

14. Achieving Customer Satisfaction by Managing the Whole Business with Teams, Kodak Customer Assistance Center.

15. Using Total Quality Management as the Foundation for Teams, Milwaukee Insurance Company.

16. How Empowered Teams Helped Win the Malcolm Baldrige Award, Eastman Chemical Company.

17. The Baldrige and Beyond: Sustaining Systemwide Reengineering and Empowerment, Texas InstrumentsDefense Systems and Electronics Group.

18. The Language of Teams Can Be Spoken Anywhere, Texas InstrumentsMalaysia.

19. Aligning Systems to Keep Teams on the High-Performance Track, Westinghouse Electronic Assembly Plant.

20. Leading Teams: Transforming Managers into Coaches, Wilson Sporting Goods Company.

Part Three: Lessons Learned.

21. Taking a Deeper Look Inside Teams: A Summary of Best Practices.

22. The Future of Teams: Predictions About the Journey Toward Empowerment.
"The final word on teams."

``An excellent book for benchmarking empowered teams within world-class organizations without ever leaving your desk.'' (Fred Eintracht, team leader, Texas Instruments, Defense Systems and Electronics Group, High-Performing Organizations Development)

"For those readers grappling with implementing teams, Inside Teams is worth its weight in benchmarking funds."

``A very valuable resource! Kraft General Foods Customer Support Services have used numerous practical, real-life examples from this book to help our internal customers understand the teams process and realize what business results they can expect from implementing teams.'' (Nicholas Bridges, Director of Training, Kraft General Foods, Customer Support Services)

"An invaluable guide. . . . Whether or not companies used teamwork to redesign core processes or to gain business focus and competitive advantage, getting a behind-the-scenes look at their practices is an enlightening journey."

``A wonderfully succinct study of team implementationin a variety of company culturesoffering valuable insights into some of the latest technologists available in team system designs.'' (Lee D. Ashton, Vice President of Human Resources, Maplehurst)