Inside the Boardroom: How Boards Really Work and the Coming Revolution in Corporate Governance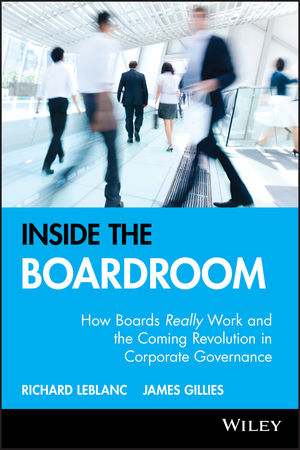 Inside the Boardroom: How Boards Really Work and the Coming Revolution in Corporate Governance
ISBN: 978-0-470-83520-3 April 2005 336 Pages
Description
Distinguished governance experts offer cures for what ails our boards of directors
In light of corporate malfeasance in recent years, the governance of corporations has been receiving great attention from regulators, researchers, shareholders, and directors themselves. Based on Richard Leblanc's in-depth five-year study of 39 boards of directors of both for- and not-for-profit organizations, Building a Better Board goes behind the scenes to reveal the inner workings of boards of directors, including how they make decisions.
Recently chosen as one of Canada's "Top 40 Under 40"(TM), Dr Richard Leblanc is an award-winning teacher and researcher, certified management consultant, professional speaker, professor, lawyer and specialist on boards of directors. He can be reached at rleblanc@yorku.ca. James Gillies, PhD (Toronto, Ontario, Canada), is Professor Emeritus at the Schulich School of Business, York University, where he serves as Chair of the Canada-Russia Corporate Governance Program.
Foreword.
Acknowledgements.
Introduction.
Chapter 1. Boards of Directors Have Failed and We Don't Know Why.
Chapter 2. The Many Forms of the Modern Corporations.
Chapter 3. Contemporary Directors: Who Are They, What Do They Do, and How Well Do They Do It?
Chapter 4. Best Board Practices and Assessments: Necessary but Not Enough.
Chapter 5. The Traditional Board: The Triumph of Structure.
Chapter 6. The Effective Board: Function Not Form.
Chapter 7. Effective Directors for Effective Boards: Putting Them Together.
Chapter 8. The Director Behavioural Types.
Chapter 9. A Special Type pf Director: The Chair of the Board.
Chapter 10. "C-B-S-R"—How to Build a Better Board.
Chapter 11. The Coming Revolution in Corporate Governance.
Appendix A: Qualitative and Quantitative Research Methodologies: How Do They Differ?
Appendix B: The Research Process: Getting into the Boardrooms, Obtaining the Interviews and Analyzing the Data.
Bibliography.
Index.