Inside the Economist's Mind: Conversations with Eminent Economists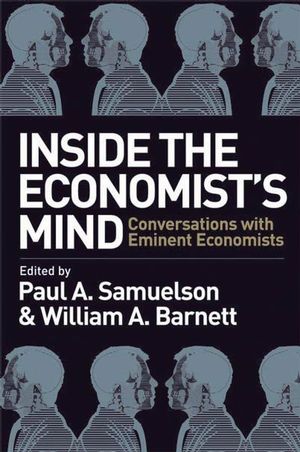 Inside the Economist's Mind: Conversations with Eminent Economists
ISBN: 978-1-405-15715-5 December 2006 Wiley-Blackwell 456 Pages
Description
By focusing on the human side as well as the intellectual dimensions of how economists work and think, this collection of interviews with top economists of the 20th century becomes a startling and lively introduction to the modern world of macroeconomics. A fun read!


For more information, frequent updates, and to comment on the forthcoming book, visit William A. Barnett's weblog at http://economistmind.blogspot.com/.





Acclaim for Inside the Economist's Mind


"In candid interviews, these great economists prove to be fabulous story tellers of their lives and times. Unendingly gripping for insiders, this book should also help non-specialists understand how economists think."
Professor Julio Rotemberg, Harvard University Business School, and Editor, Review of Economics and Statistics.


"Economics used to be called the 'dismal science'. It will be impossible for anybody to hold that view anymore ... This is science with flesh and blood, and a lot of fascinating stories that you will find nowhere else."
Dr. Jean-Pascal Bénassy, Paris-Jourdan Sciences Économiques, Paris, France


"This book provides a rare and intriguing view of the personal and professional lives of leading economists ... It is like A Beautiful Mind, scaled by a factor of 16 [the number of interviews in the book]."
Professor Lee Ohanian, University of California at Los Angeles


" ... if you want an insider view of how economics has been developing in the last decades, this is the (only) book for you."
Professor Giancarlo Gandolfo, University of Rome 'La Sapienza,' Rome





"Here we see the HUMAN side of path-breaking research, the personalities and pitfalls, the DRAMA behind the science."
Professor Francis X. Diebold, University of Pennsylvania, Philadelphia
Coeditor's Foreword: Reflections on How Biographies of Individual Scholars Can Relate to a Science's Biography (Paul A. Samuelson).
Coeditor's Preface: An Overview of the Objectives and Contents of the Volume (William A. Barnett).
History of Thought Introduction: Economists Talking with Economists, An Historian's Perspective (E. Roy Weintraub)
Interviews:
1. An Interview with Wassily Leontief (Interviewed by Duncan K. Foley).
2. An Interview with David Cass (Interviewed jointly by Stephen E. Spear and Randall Wright).
3. An Interview with Robert E. Lucas, Jr. (Interviewed by Bennett T. McCallum).
4. An Interview with János Kornai (Interviewed by Olivier Blanchard).
5. An Interview with Franco Modigliani (Interviewed by William A. Barnett and Robert Solow).
6. An Interview with Milton Friedman (Interviewed by John B. Taylor).
7. An Interview with Paul A. Samuelson (Interviewed by William A. Barnett).
8. An Interview with Paul A. Volcker (Interviewed by Perry Mehrling).
9. An Interview with Martin Feldstein (Interviewed by James M. Poterba).
10. An Interview with Christopher A. Sims (Interviewed by Lars Peter Hansen).
11. An Interview with Robert J. Shiller (Interviewed by John Y. Campbell).
12. An Interview with Stanley Fischer (Interviewed by Olivier Blanchard).
13. An Interview with Jacques Drèze (Interviewed by Pierre Dehez and Omar Licandro).
14. An Interview with Thomas J. Sargent (Interviewed by George W. Evans and Seppo Honkapohja).
15. An Interview with Robert Auman (Interviewed by Sergiu Hart).
16. Conversations with James Tobin and Robert Shiller on the "Yale Tradition" in Macroeconomics (Conducted by David Colander).
Inside the Economist's Mind
is a very rare thing--an economic page-turner. The personalities behind the frontiers of economic research make for compelling reading. I cannot recommend it highly enough.
Stephen Kinsella, University of Limerick

"A wonderful collection of personal and professional insights by Economics' leading intellectuals. Each one is worth reading."
Professor Mark Watson, Princeton University

"In candid interviews, these great economists prove to be fabulous storytellers of their lives and times. Unendingly gripping for insiders, this book should also help non-specialists understand how economists think."
Julio Rotemberg, Harvard University Business School

"The interviews in this volume are unique intellectual documents in the history of economic thought, economic policy, and biography. Scholars will value them as primary sources. Readers with only a passing interest in economics will be delighted by their entertaining insights into the minds and lives of these great thinkers. This is one of the most valuable projects in academic economic publishing for a long time, and we should all be grateful to the journal, Macroeconomic Dynamics, for collecting these archival treasures over a number of years."
Professor Douglas Gale, New York University

"Economics has made swift progress in the past few decades and its role in policy-making has radically increased. The interviews of many of the most prominent researchers and policy-makers offer a unique insider view of these developments. This book is fascinating reading to anyone interested in contemporary economics and its role in modern societies."
Seppo Honkapohja, University of Cambridge

"Economics used to be called the 'dismal science'. It will be impossible for anybody to hold that view anymore after reading these interviews. This is science with flesh and blood, and a lot of fascinating stories that you will find nowhere else."
Dr. Jean-Pascal Bénassy, Paris-Jourdan Sciences Économiques (PSE) and Centre pour la Recherche Economique et ses Applications

"This book provides a rare and intriguing view of the personal and professional lives of leading economists, and the circumstances that facilitated their creative breathroughs. It is like A Beautiful Mind, scaled by a factor of 16 [the number of interviews in the book]."
Professor Lee Ohanian, UCLA

"Histories of economic analysis abound, but if you want an insider view of how economics has been developing in the last decades, this is the (only) book for you."
Giancarlo Gandolfo, University of Rome

"Here we see the human side of path-breaking research, the personalities and pitfalls, the drama behind the science."
Professor Francis X. Diebold, University of Pennsylvania

"These 25-page conversations quickly hone in on what makes these leading economists from the academic world and public policy corridors tick, and how they--and the profession itself--evolved in research and thinking." CHOICE


A collection of interviews of premier economists, eight of whom are recipients of the Nobel Prize, conducted by their colleagues and friends in the field

Both an account of the development of modern economics and a personal history of those who helped create it

Includes an introduction by the editors, as well as concluding essays by prominent economic historians.