Inside the Undergraduate Experience: The University of Washington's Study of Undergraduate Learning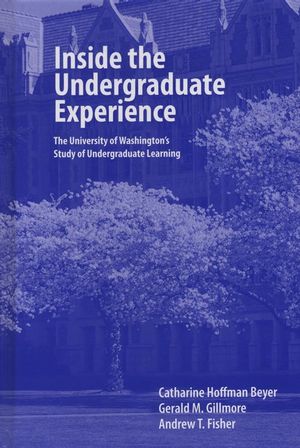 Inside the Undergraduate Experience: The University of Washington's Study of Undergraduate Learning
ISBN: 978-1-933-37126-9
Mar 2007, Jossey-Bass
432 pages
Product not available for purchase
Description
The University of Washington's Study of Undergraduate Learning (UW SOUL) tracked 304 entering freshmen and transfer students as they moved through their college experience from fall 1999 to spring 2003. Unparalleled in its scope, this longitudinal study focused on six areas of learning: writing, critical thinking/problem solving, quantitative reasoning, information literacy, understanding and appreciating diversity, and personal growth. This book provides faculty, staff, and administrators at two- and four-year institutions with a model of assessment that both captures the complexity of the undergraduate experience and offers practical information about how to improve teaching and learning. Data from surveys, open-ended email questions, interviews, focus groups, and portfolios make it possible for the authors to create case studies of individual learning paths over time, as well as to report the group's aggregate experience. Honoring the authenticity of student voices, this book illuminates the central roles played by the academic disciplines and by faculty in undergraduate learning, offering powerful evidence for the argument that assessment of student learning is most complete and most useful when conducted at the department level.
Foreword.
Acknowledgments.
1. Introduction.
2. Reserach Process.
3. Personal Growth.
4. Understanding and Appreciating Diversity.
5. Critical Thinking and Problem Solving.
6. Writing.
7. Quantitative Reasoning.
8. Information Technology and Literacy.
9. General Learning.
10. Summary and Last Words.
Bibliography.
Index.
There are several other findings that are equally worth noting, but would need more space than a book review to fully appreciate. Suffice it to say that if you are involved in higher education, whether you work with faculty or students, as an administrator or a teacher, this book will provide you with a window on learning that has no equal. (International Journal for Scholarship of Teaching and Learning, 07/08)