Inside the Writer's Mind: Writing Narrative Journalism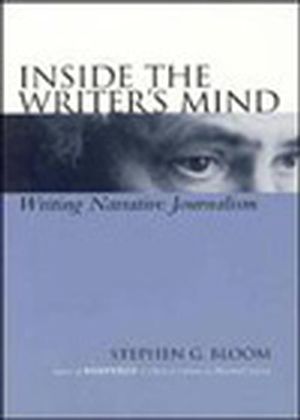 Inside the Writer's Mind: Writing Narrative Journalism
ISBN: 978-0-813-81779-8 August 2002 Wiley-Blackwell 279 Pages
Description
Inside the Writer's Mind propels readers into 30 very different stories, written for magazines, newspapers and the Internet. Among the stories Stephen G. Bloom dissects are profiles of accused murderers, a Little League umpire, a husband and wife who sign a suicide pact, a world-famous Brazilian plastic surgeon, and a notorious abortionist. Bloom writes about his job canning fruit cocktail, a disaster of a Caribbean cruise vacation, a lethal family of professional wrestlers, and an afternoon spent with Dr. Ruth.
Table of contents
Acknowledgments.
Introduction.
Ordinary People.
1 Always Right at Home.
2 Busy Signal.
3 Bizarre Slaying Stumps San Francisco Police.
4 Couple's First Cruise: "It's Turning into a Fellini Movie".
5 Dr. Fart Speaks.
6 Death of an American Dream.
7 Name-droppers Alter Ill-suited Identities.
8 Portrait of a Rapist.
9 The Little Man.
Extraordinary People.
10 Doc of Ages.
11 The Joy of Dr. Ruth.
12 Gothic Revival.
13 Kings of the Mat.
14 San Francisco's Worst Kept Secret.
15 The Big Chill.
16 Yugoslav Prince Covets a Crown.
17 Eviction Brings Mountain Man Down.
18 Sneaking Scripture into the Spotlight Extraordinary Circumstances.
19 18 Years on a Long, Boozy Road.
20 Streets of San Francisco Teem with Teen Runaways.
21 For Melissa's Sake.
22 The Man with a Hex.
23 Man's Fate Hinges on Testimony of Daughter, 3; Confused Portrait Emerges of Suspect Freed in Wife's Death Ordinary Circumstances.
24 A Cannery Connection.
25 Mikey's Close Call.
26 I Shall Return, Scout's Honor.
27 Slang Leads to Miscues.
28 The Dog's Hour.
29 What's That in Your Mouth?
30 Yo!