Inspire! What Great Leaders Do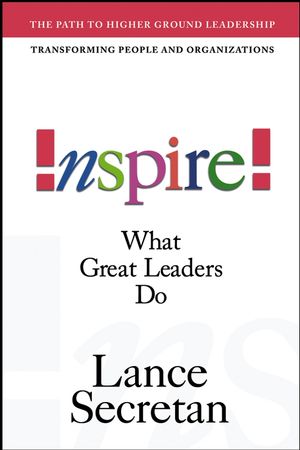 Inspire! What Great Leaders Do
ISBN: 978-0-471-69240-9 May 2004 272 Pages
Description
A top business consultant and speaker lights the path to a positive, productive work environment
What do the best leaders do to achieve greatness in the modern workplace that is muddled by fear, pressure for productivity, overwork? Inspire! offers business leaders a clear vision of what a positive, productive, inspiring organization looks like in these challenging and chaotic times, and how to get there.
The key to extraordinary long-term performance lies in a transformational commitment to inspiring people rather than motivating them. Lance Secretan's Higher Ground Leadership concepts have been widely used to increase profits and quality, slash staff turnover, and achieve record organizational and personal performance. Inspire! describes Lance's breakthrough thinking, often in the words of the pace-setting leaders who are implementing them and building legacies. Countless examples, stories, and case studies demonstrate the magic of these brilliant ideas.
Six essential values form the foundation of positive, productive, and profitable organizations and a meaningful and fulfilling life-courage to begin the transformation; authenticity that lets people contribute all of themselves and excel; service that fosters a spirit of cooperation; truth-telling that builds trust and loyalty; love for others that leads to inspired results; and effectiveness, the attainment of results. Inspire! shows leaders in any organization how to foster these essential values that lead to personal and organizational greatness.
Lance Secretan (Alton, Ontario, Canada) is one of the world's foremost thinkers on self-improvement and leadership. He is an author, award-winning columnist, philosopher, corporate coach, and a renowned public speaker and business consultant. He served as chairman of the Advisory Board of the 1997 Special Olympics World Winter Games and is also a former ambassador to the United Nations Environment Program.
Foreword.
Acknowledgments.
Meditation of a New Story Leadrer.
Introduction.
Chapter 1. Stuck in the Old Story.
Chapter 2. Moving from the Old Story to the New Story.
Chapter 3. Step One: Defining Our Destiny— The Uniqueness Within that Calls to Be Lived.
Chapter 4. Writing Your Own Destiny Statement.
Chapter 5. Step Two: Defining Our Cause.
Chapter 6. Writing Your Own Cause Statement.
Chapter 7. Step Three Defining Your Calling.
Chapter 8. Writing Your Own Calling Statement.
Chapter 9. Step Four: Aligning Destiny, Cause, and Calling.
Chapter 10. Aligning Your Own Destiny, Calling, Cause, and Calling Statements.
Chapter 11. Step Five: Serving Followers.
Chapter 12. Step Six: Guiding the Contribution of Brilliance.
Chapter 13. Step Seven: Magic Ingredient X — Creating the Environment that Inspires Others to Inspire Use.
In Summary: The Seven Key Questions.
Blessing for a Higher Ground Leader.
The Higher Ground Leadership Commitment.
Notes.
Index.