Inspired!: Take Your Product Dream from Concept to Shelf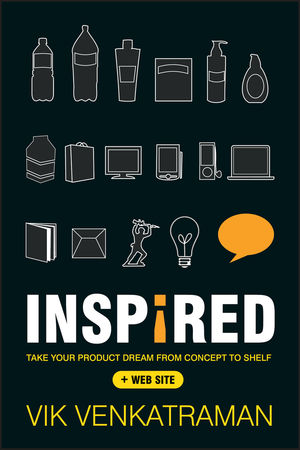 Inspired!: Take Your Product Dream from Concept to Shelf
ISBN: 978-0-470-63845-3 December 2010 272 Pages
Description
The definitive reference guide for developing, launching, and rolling out a new product
Each year, thousands of new products are introduced to market. Most fail. What's worse is it doesn't have to be this way. The fact is product failure is rarely the result of either a lack of need or desire for a product, but, rather, is due to an entrepreneur who lacks the know-how to successfully develop, launch and rollout his or her product. Inspired! Take Your Product Dream from Concept to Shelf helps entrepreneurs to successfully navigate the marketplace, avoiding the common mistakes most people make, while finding traction faster, and building an attractive brand that players across the value chain will want will want to buy.
Provides readers with inspiring true stories and anecdotes, as well as insightful interviews with top entrepreneurs and merchandisers
Presents invaluable research as to producers, designers, distributors, and retailers
Divided into three easy-to-follow sections – Development, Launch, and Rollout
With unemployment hovering around 10%, many individuals are turning to the world of entrepreneurship. Now more than ever individuals, start-ups, and small businesses need expert guidance on how to bring their products from concept to shelf. Inspired! provides that guidance.
Preface.
Acknowledgments.
PHASE I DEVELOPMENT.
Chapter 1 Develop the Idea.
Chapter 2 Create Your Product.
Chapter 3 Brand Marketing.
Chapter 4 Design the Process.
PHASE II LAUNCH.
Chapter 5 Packaging a Product.
Chapter 6 Produce Your Product and Platform.
PHASE III ROLLOUT.
Chapter 7 Get Distribution, and Get on the Shelf.
Chapter 8 Demonstrate Local Success.
Chapter 9 Financing Primer.
Notes.
About the Author.
Index.
| | |
| --- | --- |
| Leadership Training Rotation Program: Exclusive Opportunity for Columbia Students | Download |
| Star Power Sales Training Document | Download |
| Star Power Sample Ad | Download |
| Mutual Confidentiality and Non-Disclosure Agreement | Download |
| Field Marketing Contractor Agreement | Download |
| Distribution Agreement | Download |
| Area Sales Manager Agreement | Download |