Inspired Philanthropy: Your Step-by-Step Guide to Creating a Giving Plan and Leaving a Legacy, 3rd Edition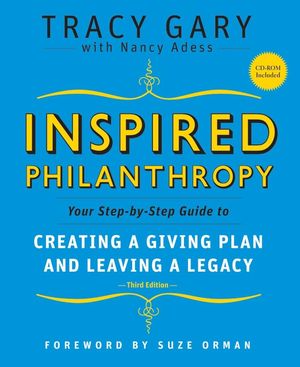 Inspired Philanthropy: Your Step-by-Step Guide to Creating a Giving Plan and Leaving a Legacy, 3rd Edition
ISBN: 978-0-470-44736-9 November 2008 Jossey-Bass 336 Pages
Download Product Flyer
Download Product Flyer
Download Product Flyer is to download PDF in new tab. This is a dummy description. Download Product Flyer is to download PDF in new tab. This is a dummy description. Download Product Flyer is to download PDF in new tab. This is a dummy description. Download Product Flyer is to download PDF in new tab. This is a dummy description.
Description
This newest edition of the classic book shows how anyone can align and integrate values, passions, and dreams for their communities and families into their plans. Inspired Philanthropy explains how to make a difference by creating giving and legacy plans, tells what questions to ask nonprofits, and spells out how to help partner with advisors and nonprofit leaders for inspired outcomes. In addition to overall updates to statistics, the new edition includes a discussion of the implications of the Buffett gift to the Gates Foundation; new legacy planning tools; expanded resources on youth, giving circles, and communities of color; key questions for advisors and donors; and worksheets and resources available on the enclosed CD.
Table of contents
CD-ROM Contents.
Foreword to the Second Edition: The Power of Doing Good: Giving to a Worthy Cause Is Worth More Than You Know.
Preface.
Acknowledgments.
The Authors.
Introduction.
QuickStart Guide: Ten Steps to More Inspired Philanthropy.
PART ONE Creating Your Giving Plan.
1 Giving and the Nonprofit World.
Nonprofits Are an Essential Link.
That's a Lot of Money.
The Role of Private Philanthropy.
The Power of Philanthropy.
Some Givers' Stories.
2 You, the Philanthropist.
Gratitude.
What Do You Care About?
Values Drive Decisions.
Making Choices.
What Do You Bring with You?
3 Developing Your System of Giving.
Imagining a Better World.
Creating Your Vision and a Theory of Change.
The Wheel of Integrated Change Making.
Building a Comprehensive Giving Strategy.
Evaluating Your Impact.
Learning More About Social Change.
Your Giving Portfolio.
4 Creating a Mission Statement.
Writing Your Mission Statement.
Inspired Mission Statements from Individuals and Family Foundations.
Mission Matching.
How to Find Possible Mission Matches.
5 Deciding How Much to Give.
How Much Money Do You Think You Have?
Major Giving Practices.
How Much Should You Give?
Giving Principal.
Thinking a Little Bigger.
6 Where to Give.
Choosing Where to Give.
Sources of Information.
Gathering information.
Levels of Philanthropic Intervention.
Philanthropic Investing.
Giving Internationally.
Alternative Holiday Giving.
Making Decisions.
7 Creating a Personal Giving Plan.
Getting Organized.
Sample Giving Plans.
Multiyear Giving.
Clarifying Your Intention.
Reviewing Your Giftmaking for Yearly Results and Impact.
Expanding Your Giving Horizon.
The Philanthropic Learning Curve.
8 The Many Ways to Give.
Definitions of Common Vehicles for Giving.
Considering How to Give.
Frequently Used Ways to Give.
Community-Based Philanthropy.
9 Organizational Giving: Family Foundations and Corporate Giving.
Sharing Values and Goals.
Sharing Decision Making.
Other Considerations.
Developing a "Statement of Donor Legacy."
Corporate Giving and Corporate Foundations.
PART TWO: Strategic and Creative Ways to Leverage Your Giving.
10 Engagement with Groups You Support.
Effective Donor Communication.
Communicating Your Support for an Organization.
Communicating Donor Intent.
Donor Engagement.
Working Closely with Organizations.
Setting Your Giving Boundaries.
11 Creating Greater Plans for Your Family, Heirs, and Humanity.
Begin with the End in Sight.
Prudent Planning.
Shaping an Inspired Legacy Plan.
Charitable Estate Planning.
Working with Advisors for Inspired Outcomes.
Becoming a Legacy Mentor.
Planning for Your Heirs.
Review.
Leaving Bequests or Trusts to the Next Generation.
Next Steps.
12 Growing and Partnering with the Next Generation of Givers.
Learning Early About Giving.
Teenagers and Giving.
Youth as Grantmakers.
Young Inheritors Giving and Living.
13 For Donors Who Have Much More to Give.
Facing and Sharing Our Good Fortune.
Giving from Net Worth.
Experiments in Giving.
Networking with Other Major Donors.
Keeping Track and Being Responsive.
14 The Power of Partnership: Transformative Philanthropy.
Moving from Charity to Change.
New Forms of Collaboration.
Properties of Transformational Philanthropy.
Moving Giving and Leadership to the Next Generation.
Reasons for Hope.
A Model of Transformative Collaboration.
Notes.
Index.
How to Use the CD-ROM.
CD - ROM CONTENTS.
EXERCISES.
2.1 Stereotypes.
2.2 Gratitude.
2.3 Vision and Values.
2.4 Indicators of Your Values.
2.5 Making Choices.
2.6 Time, Talents, and Treasures.
3.1 Review of Your Recent Giving.
3.2 Characteristics of the Groups You Support.
3.3 Reflections.
3.4 Thinking About Change.
3.5 Imagining a Better World.
3.6 Million-Dollar Visioning.
3.7 Steps for Building a Comprehensive Giving Strategy.
4.1 Writing Your Mission Statement.
4.2 Mission Matching.
5.1 How Much Money Do You Really Have?
5.2 How Much Should You Give?
5.3 How Much Will You Give During Your Lifetime?
6.1 Your Funding Areas.
7.1 Your Giving Plan.
8.1. Giving Methods.
10.1 Level of Engagement.
11.1 Checklist for Assessing an Advisor.
11.2 Becoming a Legacy Partner.
11.3 Who Are You Planning For?
11.4 Current Wills, Legal Documents, and Titling of Assets.
11.5 How Advisors Can Help.
12.1 Mentoring.
13.1 Giving from Assets.
WORKSHEETS.
6.1 Evaluating a Group for Possible Funding.
7.1 Your Giving Plan.
7.2 Multiyear Giving Record.
7.3 Giving Intention.
7.4 Results and Impact.
7.5 How You Did as a Donor.
10.1 Inspired Philanthropist's Checklist.
10.2 Preparing for Site Visits.
APPENDICES.
Appendix A: Tools for Partnering Effectively with Advisors for Your Inspired Legacy.
Appendix B: Partnering with Clients for Inspired Outcomes: Notes to Advisors and Nonprofits, by Phil Cubeta,
Appendix C: Creative Ideas for Giving,
Appendix D: Celebrity Philanthropy,
Appendix E: Sample Letters,
Appendix F: Breaking Barriers to Effective Giving,
Appendix G: Loans to Friends,
Appendix H: Comparison of Giving Options,
Appendix I: Resources.
Extra
Inspired Philanthropy Resources, events, press, and more are available at the new book website. Learn how you can help create more Donor Divas and help Tracy Gary give away more than 10,000 copies of this new book!