Instant Allergy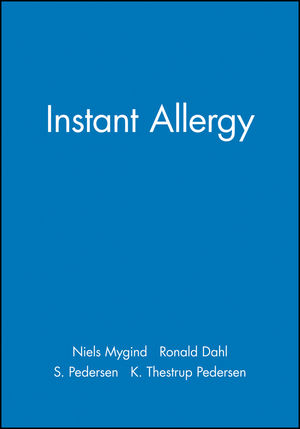 Instant Allergy
ISBN: 978-0-632-04232-6
May 1997, Wiley-Blackwell
184 pages
Description
Allergic diseases are now extremely common, having increased in frequency over the last 30 years. More than 30% of the total population suffers from excema, hay fever or asthma--which apparently have become diseases of 'modern' society. Severely allergic patients are treated by specialists in allergy and dermatology, and Niels Mygind has addressed this in his previous book, Essential Allergy. Yet most cases of eczema, hay fever and asthma are mild and are often treated by generalists and specialists in fields other than allergy and dermatology. Instant Allergy, an abbreviated edition of Essential Allergy, offers GPs and non-specialists an updated, practical and illustrated text on these allergic diseases. Instant Allergy, therefore, can be read easily and digested quickly.
1. The cells and molecules of allergy;.
2. Allergy: an increasing problem;.
3. Allergens: the causes of allergy;.
4. Diagnosis of allergy;.
5. The gastro-intestinal tract and food sensitivity;.
6. Atopic dermatitis;.
7. Urticaria and angioedema;.
8. Allergic contact eczema;.
9. Eye diseases;.
10. Rhinitis: pathogenesis;.
11. Rhinitis: drugs;.
12. Seasonal allergic rhinitis;.
13. Perennial rhinitis;.
14. Nasal polyposis and sinusitis;.
15. Asthma in adults: pathogenesis;.
16. Asthma in adutls: diagnosis;.
17. Asthma in adults: drugs;.
18. Asthma in adults: management;.
19. Asthma death;.
20. Asthma in childhood;.
21. Immunotherapy;.
22. Anaphylaxis;.
23. Allergy to bee and wasp;.
24. Latex allergy;.
Index
* an abbreviated edition of Essential Allergy * high number of illustrations, many in colour * instant use for students, medical doctors including GPs, specialists in allergology, paediatrics and dermatology