Instant Pharmacology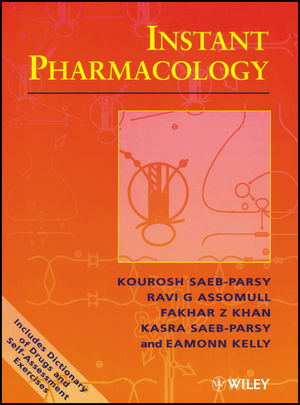 Instant Pharmacology
ISBN: 978-0-471-97639-4 June 1999 368 Pages
Description
Written by students, for students, Instant Pharmacology represents a novel approach to the study of pharmacology and provides an accessible and exhaustive, yet concise account of pharmacology. The book first introduces readers to the basic principles of pharmacodynamics and pharmacokinetics, which are obviously essential for understanding the action of all drugs, and it is subsequently divided into four parts.
* Part One covers the main chemical transmitters which mediate all bodily processes and are the site of much pharmacological intervention.
* A systematic account of the pharmacological treatment of major clinical conditions is presented in Part Two, where emphasis is placed primarily on the principles upon which therapy is based, rather than overshadowing these principles with detailed features of individual drugs.
* Part Three comprises a Dictionary of Drugs, alphabetically listing all the drugs encountered in Parts One and Two. Entries in the dictionary describe in detail the clinical uses, mechanisms of action, pharmacokinetics and the main adverse effects of a specific agent.
* Finally, to allow readers to evaluate their own progress in the subject, Part Four is a self assessment section, including multiple choice questions (with answers) covering all the topics in Instant Pharmacology.
Instant Pharmacology will make the study of pharmacology a more rewarding and enjoyable process, and is essential reading for all undergraduate students of pharmacology, pharmacy and related courses, as well as preclinical medical and dental students.
INTRODUCTION: BASIC PRINCIPLES.

CHEMICAL TRANSMISSION.

Peripheral Neurotransmission.

Central Neurotransmission.

Local Transmission.

Hormonal Transmission.

SYSTEMATIC PHARMACOLOGY.

The Circulatory System.

The Central Nervous System.

Drug Therapy of Inflammatory Disorders.

Anaesthetic and Opioid Analgesics.

Chemotherapy.

The Gastrointestinal Tract.

Disorders of Blood and the Vasculature.

Endocrine Pharmacology.

Reproductive Pharmacology.

DICTIONARY OF DRUGS.

SELF-ASSESSMENT.

Index.