Institutional Research: More Than Just Data: New Directions for Higher Education, Number 141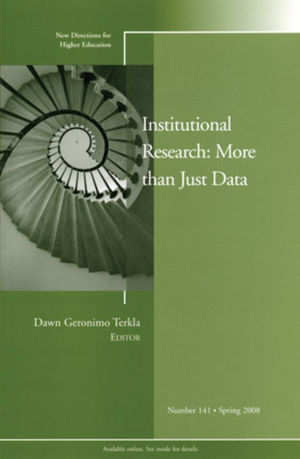 Institutional Research: More Than Just Data: New Directions for Higher Education, Number 141
ISBN: 978-0-470-38316-2
May 2008, Jossey-Bass
112 pages
Description
The modern incarnation of institutional research has at its disposal an array of statistical, psychological, sociological and general analytical tools. This volume presents a rich group of informative examples and perspectives to help administrators realize the fullest potential of institutional research and understand all the roles it can play.

Institutional research is a facet of administration too little known and too often underappreciated. It appears in many guises, from a small, unnamed group in a college development office to a collection of professional branches dispersed across a huge research university. As an in-house resource, it offers unparalleled opportunities for other administrative branches to probe and analyze nearly every aspect of an institution:
student learning outcomes
faculty teaching and workload
broad measures of efficiency and performance.
Institutional research can also play a pivotal role in accreditation's self-study process, lay the foundation for benchmarking against peer institutions, and inform both ends of a strategic plan by supplying the data that make a plan realistic and concrete and following up to measure progress. It is also the source for information demanded by institutions external to the university or college: public and private, nonprofit and for-profit.

This is the 141st volume of the Jossey-Bass higher education report New Directions for Higher Education. Addressed to presidents, vice presidents, deans, and other higher education decision makers on all kinds of campuses, New Directions for Higher Education provides timely information and authoritative advice about major issues and administrative problems confronting every institution.