Institutional Research and Homeland Security: New Directions for Institutional Research, Number 146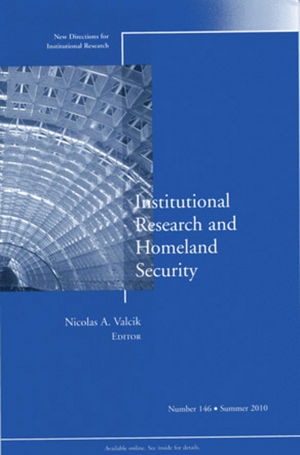 Institutional Research and Homeland Security: New Directions for Institutional Research, Number 146
ISBN: 978-0-470-90314-8
Jul 2010
112 pages
Description
Although homeland security has captured the public's attention in recent years, higher education institutions have had to contend with emergency situations and security issues long before 9/11 occurred. Well known incidents such as the Unabomber attacks and decades of sporadic school shootings brought violence to college campuses long before the Department of Homeland Security was established. Despite these past security issues and the passage of the PATRIOT Act, very little research has been performed on homeland security issues and higher education institutions. This volume of New Directions for Institutional Research examines how federal regulations impact institutional research and higher education institutions. This volume also addresses key issues such as right-to-privacy regulations, criminal background checks, the Student and Exchange Visitor Information System (SEVIS), information technology security, the use of geographic information systems as a research tool, hazardous materials (HAZMAT) management, and the impact of natural disasters and manmade threats on applications and enrollment.

This is the 146th volume of New Directions for Institutional Research. Always timely and comprehensive, New Directions for Institutional Research provides planners and administrators in all types of academic institutions with guidelines in such areas as resource coordination, information analysis, program evaluation, and institutional management.
Editor's Notes
(
Nicolas A. Valcik
).
1. Issues in Homeland Security (Denise P. Sokol)
This chapter provides a framework for the rest of the volume by discussing the impact of legislative statutes on higher education institutions with regard to homeland security.
2. The Tension Between Data Confi dentiality and National Security in Higher Education (Cathe Lester)
This chapter discusses the tension between national security issues and the privacy rights of students and employees under the Family Educational Rights and Privacy Act statute. How do higher education institutions resolve the resulting tension in today's security atmosphere?
3. Information Security Issues in Higher Education and Institutional Research (William L. Custer)
This chapter explores the challenges that institutional research offi ces face in securing data from both internal and external threats and examines techniques that colleges and universities can employ to reduce intrusion by external forces.
4. Homeland Security Initiatives and Background Checks in Higher Education (Stephanie Hughes, Eileen Weisenbach Keller, Giles T. Hertz)
This chapter focuses on policies and procedures that universities and colleges face in the wake of new homeland security initiatives.
5. SEVIS: The Impact of Homeland Security on American Colleges and Universities (Janet V. Danley)
This chapter explores how federal guidelines for homeland security are affecting higher education institutions through the SEVIS program.
6. Uses of GIS for Homeland Security and Emergency Management for Higher Education Institutions (Stuart B. Murchison)
This chapter examines the use of GIS [geographic information systems] in relation to homeland security and emergency management at higher education institutions throughout the United States.
7. Compliance Issues and Homeland Security With New Federal Regulations for Higher Education Institutions (Nicolas A. Valcik)
This chapter discusses new and existing federal regulations for hazardous materials (HAZMAT) by using case studies to illustrate what can arise when institutions are not in compliance with federal guidelines. This chapter also examines how universities and colleges can ensure HAZMAT compliance.
8. Impact of Incidents on Enrollments at Higher Education Institutions (Hans P. L'Orange)
This chapter investigates various campuses to determine if there is an enrollment pattern before and after such incidents as spree killings and natural disasters have occurred.
9. Conclusion (Dawn Kenney)
This chapter summarizes the previous chapters and analyzes the impact of homeland security mandates on institutional research in terms of funded and unfunded mandates.
INDEX.