Instructor Excellence: Mastering the Delivery of Training, 2nd Edition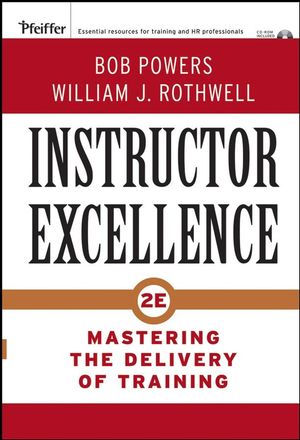 Instructor Excellence: Mastering the Delivery of Training, 2nd Edition
ISBN: 978-0-787-98753-4 February 2007 Pfeiffer 260 Pages
Description
When the first edition of Instructor Excellence was published in 1992, it became an instant bestseller among professionals who deliver and manage training. This thoroughly revised and updated second edition complements the timeless standards that made the first edition a classic as well as covers relevant developments in the design and delivery of training, including online and videoconferencing facilitation and current research on what sets exemplary instructors apart from the average.
List of Exhibits.
Contents of the CD-ROM.
Foreword.
Preface to the Second Edition.
Acknowledgments.
Pretest: On What Issues Do You Need to Improve Your Excellence as an Instructor?
Part One: Building a Foundation for Excellence.
1. Making a Difference: The Impact of Excellent Instructors.
2. Articulating the Roles and Responsibilities of Instructors.
3. Selecting Instructors: A Skill-Based Approach.
4. Communicating Expectations for Instructor Performance.
Part Two: Mastering the Tools of Instructor Excellence: Sixty Standards of Performance.
5. Being a Well-Prepared Instructor.
6. Generating Abundant Classroom Participation.
7. Building Effective Presentation Skills.
8. Adhering to Course Content and Sequencing.
9. Asking and Responding to Questions.
10. Using Training Aids to Enhance Learning.
11. Collecting and Making Sense of Evaluation Data.
Part Three: Managing Instructor Excellence.
12. Observing Instructors and Providing Feedback.
13. Recognizing and Rewarding Instructors.
14. Developing Instructors and Their Careers.
15. Ensuring the Success of Instructors.
Appendices.
1. Typical Classroom Problems.
2. Competencies for Training Delivery and Instruction.
References.
Index.
About the Authors.
How to Use the CD-ROM.
Pfieffer Publications Guide.
Includes a focus on online and videoconferencing facilitation.
Contains up-to-date research on what sets exemplary instructors apart from the average.
Offers information on the changes in the trainer/instructor environment, technological advances, etc.
Contains a comprehensive and updated list of standards for instructor excellence.
Offers many new worksheets and tools for immediate use in the workplace and new information and tools on developing instructors and their careers.