Instrumentation and Electroanalytical Chemistry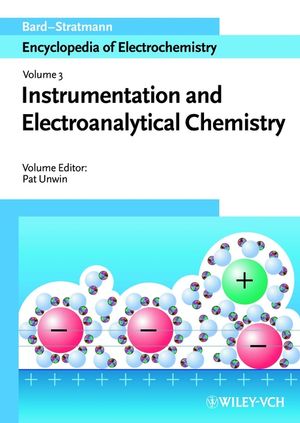 Instrumentation and Electroanalytical Chemistry
ISBN: 978-3-527-30395-3
Apr 2003
689 pages
Description
Unrivalled in its breadth and depth, this 11-volume encyclopedia provides both an easy introduction to all topics related to modern electrochemistry as well as a comprehensive overview of the subject. Throughout, the emphasis is in easy access to information, with every topic treated at an introductory, medium and advanced level. This first-class reference work is edited and written by renowned scientists, covering everything from fundamental research to areas of application. Alan Bard, experienced editor of the Journal of the American Chemical Society, is one of the most renowned experts in electrochemistry and one of the editors-in-chief.
1: INTRODUCTION AND BASIC PRINCIPLES.
Introduction to Electroanalytical Techniques and Instrumentation (P. Unwin).
Analog and Digital Instrumentation (D. Wipf).
Digital Simulation in Electroanalytical Chemistry (D. Britz).
2: ELECTROANALYTICAL METHODS.
Linear Sweep and Cyclic Voltammetry (B. Speiser).
Step and Pulse Techniques (C. Brett & A. Brett).
Stripping Analysis (J. Wang).
Hydrodynamic Electrodes (A. Mount).
Microelectrodes – Retrospect and Prospect (R. Forster).
Impedance Methods (S. Krause).
The Electrochemical Quartz Crystal Microbalance (A. Hillman).
Sonoelectrochemistry: Physical Aspects (R. Compton, et al.).
Sonoelectroanalysis: Applications (R. Compton, et al.).
Ultrasound and Electrosynthesis (R. Compton, et al.).
Biosensors (W. Schuhmann & E. Bonsen).
3: IN SITU STRUCTURAL AND SPECTROSCOPIC PROBES OF ELECTROCHEMICAL SYSTEMS.
Electrochemical STM (T. Moffat).
Electrochemical-AFM (J. Macpherson).
Scanning Electrochemical Microscopy (B. Horrocks).
Spectroelectrochemistry: In situ UV-visble Spectroscopy (J. Crayston).
In situ Infrared Spectroelectrochemistry (P. Christensen).
Raman Spectroscopy of Electrode Surfaces (Z. Tian & B. Ren).
Volume Index.