Integrated Cardiac Safety: Assessment Methodologies for Noncardiac Drugs in Discovery, Development, and Postmarketing Surveillance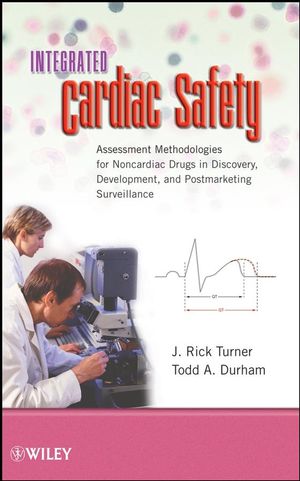 Integrated Cardiac Safety: Assessment Methodologies for Noncardiac Drugs in Discovery, Development, and Postmarketing Surveillance
ISBN: 978-0-470-41128-5
Nov 2008
500 pages
Description
The serious nature of cardiovascular adverse drug reactions occurring in patients makes assessment of a drug's cardiac safety profile a high priority during both development and post-approval monitoring. Integrated Cardiac Safety provides necessary guidance and methodology for professionals assessing cardiac safety of drugs throughout all stages of the drug's life, from discovery and development through postmarketing research. This self-contained, reader-friendly text is valuable to professionals in the pharmaceutical, biotechnology, and CRO industries, pharmacologists, toxicologists, government officials, and students.
Foreword.
Preface.
Acknowledgments.
Abbreviations.
Part I: INTRODUCTION.
1. The Importance of Cardiac Safety Assessments.
2. The Biological Basis of Adverse Drug Reactions.
Part II: CARDIAC FUNCTION AND PATHOLOGY.
3. Cardiac Structure and Function.
4. Cardiac Pathophysiology and Disease.
SECTION III: DRUG DISCOVERY AND NONCLINICAL DEVELOPMENT.
5. Drug Discovery and Drug Design.
6. Nonclinical Development.
SECTION IV: PREAPPROVAL CLINICAL DEVELOPMENT.
7. The Thorough QT/QTc Trial.
8. General Safety Assessments.
SECTION V: POSTMARKETING ASSESSMENT METHODOLOGIES.
9. Therapeutic Use Trials and Meta-analyses.
10. Assessment Methodologies in Nonexperimental Postmarketing Surveillance.
11. Postmarketing Proarrythmic Cardiac Safety Assessments.
12. Generalized Cardiac Safety.
SECTION VI: BEHAVIORAL DRUG SAFETY.
13. Medication Errors, Adherence, and Concordance.
SECTION VII: INTEGRATIVE DISCUSSION.
14. Future Directions in Drug Safety.
References.
Index.
"This fills the void for a book addressing the safety issues, especially cardiac safety issues, of therapeutic agents in development. The content is high yield, easy to understand and succinct, covering the multiple steps involved in the drug safety and approval process." (Doody's, April 2009)