Integrating Hydrology, Ecosystem Dynamics, and Biogeochemistry in Complex Landscapes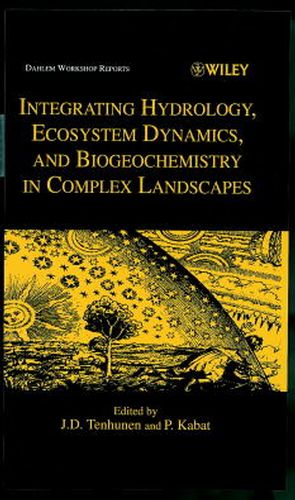 Integrating Hydrology, Ecosystem Dynamics, and Biogeochemistry in Complex Landscapes
ISBN: 978-0-471-98474-0 August 1999 384 Pages
Download Product Flyer
Download Product Flyer
Download Product Flyer is to download PDF in new tab. This is a dummy description. Download Product Flyer is to download PDF in new tab. This is a dummy description. Download Product Flyer is to download PDF in new tab. This is a dummy description. Download Product Flyer is to download PDF in new tab. This is a dummy description.
Description
In recent decades, the biosphere has become increasingly stressed, often beyond the point where the internal structure and function of ecosystems are sustained. We have experienced an intensified "exploration" of natural system resources to support agricultural and forest production, to provide water for human consumption, to supply the needs of industrial processes, and to provide, in addition, attractive, diverse landscapes for recreation and tourism. Exceeding thresholds via anthropogenic disturbance that results in degradation of ecosystems is dangerous, since the system-level effects and feedbacks (e.g., soil erosion, famine, polluted drinking water, etc.) are highly undesirable. Finding appropriate compromises in resource use that satisfy existing competitive interests and result in sound environmental management, especially in densely populated regions, requires an improved understanding of the trade-offs that accompany changes in "exploitation" or altered resource allocation at regional and landscape scales.
Progress on landscape-level understanding of coupled water, carbon, and nitrogen budgets is limited by a lack of commitment to a rigorous development and application of synthetic techniques (e.g., strongly linked remote sensing studies, geographic information system applications, computer simulation modeling, and ecosystem experimentation) more than by basic site-level measurement alone. Possible research approaches that will contribute to new use of ecosystem knowledge in a landscape and regional context were considered by this Dahlem Workshop. The importance of conducting improved landscape and regional assessment of ecosystem function as input to global scale efforts of the International Geosphere-Biosphere Programme is a major theme of this book.
Table of contents
The Dahlem Konferenzen.
List of Participants.
1. Ecosystem Studies, Land-Use Change, and Resource Management (J. Tenhunen, et al.).
2. Remote Sensing Requirements to Drive Ecosystem Models at the Landscape and Regional Scale (R. Waring and S. Running).
3. What Practical Information About Land-Surface Function Can Be Determined by Remote Sensing?: Where Do We Stand? (S. Prince).
4. Remote Sensing—What Will We Get? (W. Mauser, et al.).
5. Group Report: Remote Sensing Perspectives and Insights for Study of Complex Landscapes (C. Wessman, et al.).
6. Land-Surface Influences on Atmospheric Dynamics and Precipitation (R. Pielke, et al.).
7. Ecological Controls on Land-Surface Atmospheric Interactions (R. Valentini, et al.).
8. Effects of Landscape Pattern and Topography on Emissions and Transport (F. Meixner and W. Eugster).
9. Group Report: How Is the Atmospheric Coupling of Land Surfaces Affected by Topography, Complexity in Landscape Patterning, and the Vegetation Mosaic? (M. Raupach, et al.).
10. The Role of Later al Flow: Over- or Underrated? (E. Wood).
11. The Importance of Root Distributions for Hydrology, Biogeochemistry, and Ecosystem Functioning (R. Jackson).
12. Regional-scale Export of C, N, P, and Sediment: What River Data Tell Us about Key Controlling Variables (N. Caraco and J. Cole).
13. Group Report: How Is Ecosystem Function Affected by Hydrological Lateral Flows in Complex Landscapes? (L. Menzel, et al.).
14. Do Landscape Structural and Functional Units Exist? (J. Reynolds and J. Wu).
15. Effect of Landscape Fragmentation, Disturbance, and Succession on Ecosystem Function (I. Noble).
16. Can We Close the Water/Carbon/Nitrogen Budget for Complex Landscapes? (J. Aber).
17. Group Report: Hydrological and Biogeochemical Processes in Complex Landscapes—What Is the Role of Temporal and Spatial Ecosystem Dynamics? (J. Aber, et al.).
Author Index.
Subject Index.