Integrating Technology on Campus: Human Sensibilities and Technical Possibilities: New Directions for Community Colleges, Number 101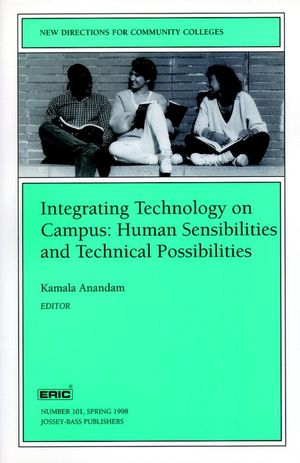 Integrating Technology on Campus: Human Sensibilities and Technical Possibilities: New Directions for Community Colleges, Number 101
ISBN: 978-0-787-94234-2 May 1998 Jossey-Bass 102 Pages
Description
The focus on--and heavy financial investment in--technology can undermine the respect for the human processes that create a vision, inspire a sense of mission, and encourage the passion to pursue the vision. This volume looks at building the human infrastructure within which we can provide technical support in a meaningul way. It offers multiple institutional perspectives and makes constructive suggestions for developing Anduring practices of technology integration. The contributors, all pioneers in integrating technology in education, address the topics of organizational structures, comprehensive economic planning, innovative policies and procedures, faculty development, and above all, collaborative approaches to achieving significant and enduring results from technological applications. This is the 101st issue of the quarterly journal New Directions for Community Colleges.
Table of contents
1. Technology as a Catalyst for Reinventing an Institution (Kathryn J. Neff).
2. Navigating the Organizational Maze: Reengineering to Advance the Technology Agenda (Barbara Gellman-Danley, Robert Teague).
3. Using Technology to Transform the College (Stephen C. Ehrmann).
4. Learner-Centered Strategy for Investments in Technology in Community Colleges (Ronald Bleed).
5. Humanizing the Integration of Technology (Terry J. Moran, Michele Payne).
6. Planning Comprehensively and Implementing Incrementally in an Age of Tightening Budgets (John P. Mastroni, Celeste Marie Schwartz).
7. Project SYNERGY: An Enduring Collaboration for a Common Cause (Kamala Anandam).
8. Faculty Compensation and Obligation: The Necessity of a New Approach Triggered by Technology Integration (Robert D. Allison, David C. Scott).
9. What Are Community Colleges to Do When Disney and Microsoft Enter the Higher Education and Training Market? (Don Doucette).
10. A Call for Action (Kamala Anandam).
11. Sources and Information: Identifying and Implementing Technologies for Higher Education (Janel Ann Soule Henrikson).