Intellectual Property Assets in Mergers and Acquisitions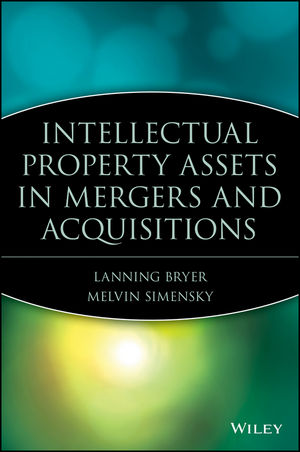 Intellectual Property Assets in Mergers and Acquisitions
ISBN: 978-0-471-26779-9 October 2002 456 Pages
Description
An up-to-date and in-depth examination of intellectual property issues in mergers and acquisitions
In mergers and acquisitions, intellectual property assets can be especially difficult to accurately value, most notably in rapidly evolving high-tech industries. Understanding the factors that create value in intellectual property assets, and the part such assets play in both domestic and international mergers, is vitally important to anyone involved in the merger and acquisition process. This book provides an overview of the intellectual property landscape in mergers and acquisitions and thoroughly covers important topics from financial and accounting concerns to due diligence and transfer issues.
Bringing together some of the leading economists, valuation experts, lawyers, and accountants in the area of intellectual property, this helpful guide acts as an advisor to business professionals and their counsel who need answers for intellectual property questions. The valuation methods presented here are simple and don't require a background in finance. Whether you're a manager or executive, an accountant or an appraiser, Intellectual Property Assets in Mergers and Acquisitions offers all the expert help you need to better understand the issues and the risks in intellectual property assets in mergers and acquisitions.
Table of contents
PREFACE.

ACKNOWLEDGMENTS.

CHAPTER 1: MERGERS AND ACQUISITIONS: AN OVERVIEW (Patrick A. Gaughan, Ph.D., College of Business, Fairleigh Dickinson University, Economatrix Research Associates, Inc.).

CHAPTER 2: THE ROLE OF INTELLECTUAL PROPERTY AND INTANGIBLE ASSETS IN MERGERS AND ACQUISITIONS (Robert Boyden Lamb, New York University, Stern Graduate School of Business).

CHAPTER 3: INTANGIBLE ASSETS AND INTELLECTUAL PROPERTY ACCOMPANYING MERGERS AND ACQUISITIONS (Gordon V. Smith, AUS Consultants).

CHAPTER 4: VALUATION OF INTELLECTUAL PROPERTY ASSETS IN MERGERS AND ACQUISITIONS (Michael J. Lasinski, INTECAP, Inc.).

CHAPTER 5: ACCOUNTING FOR INTELLECTUAL PROPERTY DURING MERGERS AND ACQUISITIONS (Andrew W. Carter, INTECAP, Inc.).

CHAPTER 6: INTELLECTUAL PROPERTY ASPECTS OF ACQUISITIONS (Glenn A. Gundersen, Dechert).

CHAPTER 7: U.S. ANTITRUST AND INTELLECTUAL PROPERTY IN MERGERS AND ACQUISITIONS (Thomas G. Jackson, Phillips Nizer Benjamin Krim & Ballon, LLP).

CHAPTER 8: INTELLECTUAL PROPERTY AND TECHNOLOGY DUE DILIGENCE IN BUSINESS TRANSACTIONS (Sheldon Burshtein, Blake, Cassels & Graydon, LLP).

CHAPTER 9: INTELLECTUAL PROPERTY, DUE DILIGENCE, AND SECURITY INTEREST ISSUES IN MERGERS AND ACQUISITIONS (Melvin Simensky, Visiting Scholar in Intellectual Property Law, New York Law School;
William M. Heberer, Hall Dickler Kent Goldstein & Wood, LLP).

CHAPTER 10: PATENT OPINIONS (David A. Loewenstein, Brown Raysman Millstein Felder & Steiner, LLP).

CHAPTER 11: INTERNATIONAL MERGERS AND ACQUISITIONS: THE CANADIAN PERSPECTIVE (Francois Painchaud, Louis-Pierre Gravelle, Panagiota Koutsogiannis, Christian Danis, and Matie-Eve Cote, Leger Robic Richard).

CHAPTER 12: INTERNATIONAL MERGERS AND ACQUISITIONS: THE EUROPEAN PERSPECTIVE (Benedict Bird, Anna Carboni, and Deborah Lincoln, Linklaters & Alliance).

CHAPTER 13: INTELLECTUAL PROPERTY TRANSFERS TO HOLDING COMPANIES (Susan Barbier Montgomery and Leonard Schneidman, Foley Hoag & Eliot, LLP).

CHAPTER 14: OFFSHORE CORPORATIONS (Tira Greene, Consultant, Anguilla;
Michael J. Ward, Counsel Limited, Anguilla).

CHAPTER 15: ACQUISITION AND LICENSING OF FAMOUS NAME TRADEMARKS AND RIGHTS OF PUBLICITY IN THE UNITED STATES (Theodore C. Max, Phillips Nizer Benjamin Krim & Ballon, LLP).

CHAPTER 16: TRANSFER OF INTELLECTUAL PROPERTY UPON MERGER OR ACQUISITION (Lanning G. Bryer and Scott J. Lebson, Ladas & Parry).

INDEX.