Intelligence: A Brief History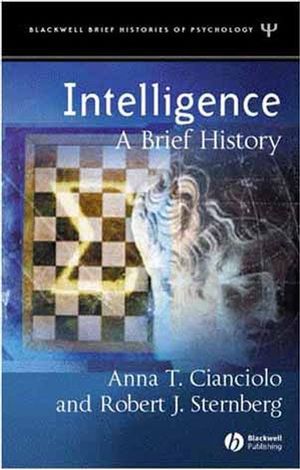 Intelligence: A Brief History
ISBN: 978-0-470-69319-3 April 2008 Wiley-Blackwell 184 Pages
Description
Intelligence: A Brief History is a lively and accessible look at the origins of the field of intelligence. The book explores the nature and measurement of intelligence, examines approaches to teaching intelligence, and discusses individual and group differences in intelligence. Readers will receive an historical overview of the field as well as a good understanding of its major ideas.
List of Figures.
Preface.
Chapter 1. The Nature of Intelligence.
Chapter 2. The Measurement of Intelligence.
Chapter 3. The Teaching of Intelligence.
Chapter 4. The Genetic and Environmental Bases of Intelligence.
Chapter 5. Group Differences in Intelligence.
Concluding Remarks.
References.
Index.
"This book surveys the history and measurement of intelligence through seven metaphors commonly used in the field: geographical (maps), computational, biological, epistemological, sociological, anthropological and systems. This treatment is extended through the chapters of the book dealing with measurement and discussions of the genetic and environmental bases of intelligence as well as group (sex and race) differences."
The Scientific and Medical Network
"This book is, therefore, strongly recommended to all serious undergraduate or postgraduate students of intelligence or to anyone interested in the historical development of psychological constructs." Social Psychological Review, October 2005





covers a wide range of topics in intelligence that are often excluded from mainstream presentations of intelligence researcy





explores the genetic and environmental bases of intelligence





discusses group differences in intelligence





examines the future of intelligence research in the areas of theory, measurement and instruction





covers signal theories, influential scholars and groundbreaking findings