Intelligent System Applications in Power Engineering: Evolutionary Programming and Neural Networks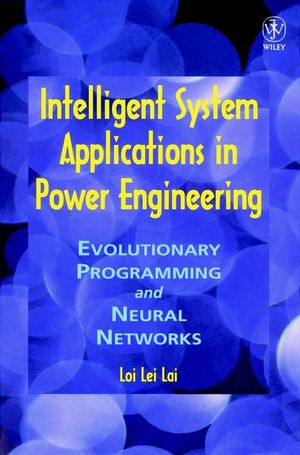 Intelligent System Applications in Power Engineering: Evolutionary Programming and Neural Networks
ISBN: 978-0-471-98095-7
Sep 1998
286 pages
Description
Cutting-edge research indicates that evolutionary programming is set to emerge as the dominant optimisation technique in the fast-changing power industry. Combining theory and practice, Intelligent System Applications in Power Engineering capitalises on the potential of neural networks and evolutionary computation to resolve real-world power engineering problems such as load forecasting, power system operation and planning optimisation. Unlike existing optimisation methods, these novel computational intelligence techniques provide power utilities with innovative solutions for improved performance. Features include:
* Introduction to evolutionary programming and neural networks serving as a foundation for later discussion of the benefits of hybrid systems
* Practical application of evolutionary programming to reactive power planning and dispatch for speedy, cost-effective increases in transmission capacity plus generator parameter estimation
* Examination of economic dispatch, power flow control in FACTS and co-generation scheduling and fault diagnosis for HVDC systems and transformers
* Consideration of power frequency and harmonic evaluation to maximise supply quality
* Employment of distance protection, faulty section estimation and calculation of fault clearing time for transient stability assessment
Graduate students in electric power engineering will value Lai s broad coverage of the applications of evolutionary programming and neural networks in the field. This unique reference will be a boon to engineers, computer application specialists, consultants and utility managers wishing to understand the benefits intelligent systems can bring to the power industry.
Object-Oriented Analysis, Design and Development of Artificial Neural Networks.

Evolutionary Computation.

Hybrid Evolutionary Algorithms and Artificial Neural Networks

An Evolutionary Programming Approach to Reactive Power Planning

Optimal Reactive Power Dispatch Using Evolutionary Programming.

Application of Evolutionary Programming to Transmission Network Planning.

Application of Evolutionary Programming to Generator Parameter Estimation.

Evolutionary Programming for Economic Dispatch of Units with Non-Smooth Input-Output Characteristic Functions.

Power Flow Control in Facts Using Evolutionary Programming.

Multi-Time-Interval Scheduling for Daily Operation of a Two-Co-Generation System with Evolutionary Programming.

Application of Evolutionary Programming to Fault Section Estimation.

Neural Networks for Fault Diagnosis in HVDC Systems.

An Ann Approach to the Diagnosis of Transformer Faults

Real-Time Frequency and Harmonic Evaluation Using Artificial Neural Networks.

Artificial Neural Network Applications in Digital Distance Relay.

Application of Artificial Neural Networks to Transient Stability Assessment.

Application of Neural Networks and Evolutionary Programming to Short-Term Load Forecasting.

Select Bibliography

Index.
"It is apparent that most topics are well described, but some lack fair treatment...the book is designed better as a reference book...which should help engineers and researchers appreciate the recent advances in this area." (Power Engineering Journal, February 1999)

"This book describes ANNs and extensions...in a general way." (Aslib Book Guide, Vol. 64, No. 1, January 1999)