Interference Analysis: Modelling Radio Systems for Spectrum Management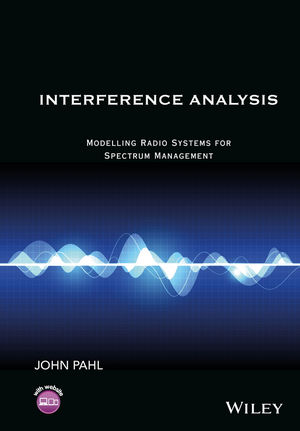 Interference Analysis: Modelling Radio Systems for Spectrum Management
ISBN: 978-1-119-06532-6
Apr 2016
560 pages
Description
The book describes how interference can be managed so that radio systems co-exist, without harmful mutual effects, within a finite amount of spectrum. This is timely in view of the increasing proliferation of wireless systems. It covers both the processes, such as regional or international coordination, as well as the engineering principles. Written by an author with extensive experience in the industry, it describes in detail the main methodologies for calculating or computing the interference between radio systems of the same type, and also between radio systems of different types
Foreword xiii
Preface xv
1 Introduction 1
1.1 Motivations and Target Audience 2
1.2 Book Structure 2
1.3 Chapter Structure and Additional Resources 3
1.4 Case Study: How to Observe Interference 3
2 Motivations 6
2.1 Why Undertake Interference Analysis? 6
2.2 Drivers of Change 7
2.3 The Regulatory Framework 8
2.4 International Regulations 10
2.4.1 History and Structure 10
2.4.2 The Radiocommunication Sector 13
2.4.3 Radio Regulations 15
2.4.4 World Radiocommunication Conference 23
2.4.5 Study Groups and Working Parties 24
2.4.6 Recommendations and Reports 25
2.5 Updating the Radio Regulations and Recommendations 27
2.6 Meetings and Presenting Results 29
2.7 National Regulators 34
2.8 Regional and Industry Organisations 35
2.9 Frequency Assignment and Planning 37
2.10 Coordination 40
2.11 Types of Interference Analysis 42
2.12 Further Reading and Next Steps 42
3 Fundamental Concepts 43
3.1 Radiocommunication Systems 43
3.2 Radio Waves and Decibels 46
3.3 The Power Calculation 49
3.4 Carrier Types and Modulation 52
3.4.1 Overview 52
3.4.2 Analogue Modulation 53
3.4.3 Digital Modulation 55
3.4.4 Frequency Hopping and OFDM 60
3.4.5 Digital Modulation Selection 62
3.4.6 Pulse Modulation and UWB 64
3.4.7 Filtering 64
3.5 Multiple Access Methods 66
3.5.1 Overview 66
3.5.2 Collision Sensing Multiple Access 68
3.5.3 Frequency Division Multiple Access 69
3.5.4 Time Division Multiple Access 70
3.5.5 Code Division Multiple Access 71
3.5.6 Orthogonal Frequency Division Multiple Access 75
3.6 Noise Temperature and Reference Points 75
3.7 Antennas 82
3.7.1 Basic Concepts 82
3.7.2 Beams and Beamwidths 85
3.7.3 Common Gain Pattern Types 85
3.7.4 Isotropic Gain Pattern 88
3.7.5 Parabolic Dish Antennas 88
3.7.6 Elliptical Patterns 92
3.7.7 Phased Array Antennas 95
3.7.8 Azimuth Dependent Antennas 96
3.7.9 Elevation Dependent Antennas 98
3.7.10 Azimuth and Elevation Slices 99
3.7.11 3D Gain Tables 100
3.7.12 Antenna Pointing Methods 101
3.8 Geometry and Dynamics 101
3.8.1 Geometric Frameworks 101
3.8.2 Flat Earth Vectors 103
3.8.3 Earth Spherical Coordinates 105
3.8.4 ECI Vector Coordinates 110
3.8.5 Ellipsoidal Earth and Orbit Models 120
3.8.6 Delay and Doppler 121
3.9 Calculation of Angles 122
3.9.1 Azimuth and Elevation 122
3.9.2 Terrestrial 123
3.9.3 Satellite 123
3.9.4 Angles in the Antenna Frame 124
3.9.5 Off-Axis Angle from ECI Vectors 125
3.9.6 Theta Phi Coordinates 127
3.10 Statistics and Distributions 128
3.11 Link Budgets and Metrics 133
3.12 Spectrum Efficiency and Requirements 138
3.13 Worked Example 140
3.14 Further Reading and Next Steps 142
4 Propagation Models 144
4.1 Overview 145
4.2 The Propagation Environment 148
4.2.1 Effective Earth Radius 148
4.2.2 Geoclimatic and Meteorological Parameters 150
4.2.3 Radio Climatic Zones 150
4.2.4 Terrain and Surface Databases 152
4.2.5 Land Use Databases 155
4.2.6 Signal Variation and Fast Fading 156
4.3 Terrestrial Propagation Models 160
4.3.1 P.525: Free Space Path Loss 160
4.3.2 P.526: Diffraction 161
4.3.3 P.530: Multipath and Rain Fade 165
4.3.4 P.452: Interference Prediction 169
4.3.5 P.1546: Point-to-Area Prediction 173
4.3.6 P.1812: Point-to-Area Prediction 177
4.3.7 P.2001: Wide-Range Propagation Model 179
4.3.8 Hata/COST 231 Median Loss Model 182
4.3.9 Appendix 7 184
4.3.10 Generic Models 188
4.3.11 Other Propagation Models 192
4.3.12 Comparing Terrestrial Propagation Models 193
4.4 Earth to Space Propagation Models 199
4.4.1 P.676: Gaseous Attenuation 199
4.4.2 P.618: Rain Loss and Noise Rise 201
4.5 Aeronautical Propagation Models 205
4.6 Additional Attenuations 205
4.7 Radio Path Geometry 208
4.8 Percentages of Time and Correlation 209
4.9 Selection of Propagation Model 214
4.10 Further Reading and Next Steps 216
5 The Interference Calculation 217
5.1 Bandwidths and Domains 218
5.2 Bandwidth Adjustment Factor 221
5.3 Spectrum Masks, Ratios and Guard Bands 224
5.3.1 Transmit Mask and Calculated Bandwidth 224
5.3.2 Standards and Spectrum Emission Masks 228
5.3.3 The Mask Integration Adjustment Factor 232
5.3.4 Frequency-Dependent Rejection and Net Filter Discrimination Terminology 239
5.3.5 Adjacent Channel Leakage Ratio, ACS and Adjacent Channel Interference Ratio 242
5.3.6 Spurious Emissions and dBc 245
5.3.7 Intermodulation 246
5.3.8 Block Edge Masks and Guard Bands 250
5.4 Polarisation 254
5.5 Adaptive Systems: Frequency, Power and Modulation 258
5.5.1 Dynamic Frequency Selection 258
5.5.2 Automatic Power Control 259
5.5.3 Adaptive Coding and Modulation 262
5.6 End-to-End Performance 263
5.7 Modelling Deployment and Traffic 266
5.7.1 Deployment Range 266
5.7.2 Activity Models and Erlangs 269
5.7.3 Traffic Type 272
5.7.4 Deployment Models 273
5.7.5 Aggregation Techniques 275
5.8 Link Design and Margin 276
5.9 Interference Apportionment and Thresholds 281
5.9.1 Interference Margin 281
5.9.2 Interference Apportionment 284
5.9.3 Short-Term and Long-Term Thresholds 286
5.9.4 Thresholds and Bandwidths 289
5.10 Types of Interference Thresholds 292
5.10.1 C/I and W/U Ratios 293
5.10.2 FDP 297
5.10.3 C/(N + I) and BER 301
5.10.4 Unavailability 303
5.10.5 Coverage, Range and Capacity 304
5.10.6 Observation Duration and Locations 307
5.10.7 Radar and Aeronautical Thresholds 307
5.10.8 Channel Sharing Ratio 308
5.10.9 Field Strength, PFD and EPFD 309
5.10.10 Margin over Threshold 312
5.11 Interference Mitigation 314
5.11.1 Transmit Power and Bandwidth 315
5.11.2 Antenna Gain Patterns 316
5.11.3 Antenna Pointing 318
5.11.4 Locations, Zones and Separation Distance 318
5.11.5 Deployment Likelihood 320
5.11.6 Noise, Feed Loss and Interference Margin 320
5.11.7 Receiver Processing 321
5.11.8 Time and Traffic 321
5.11.9 Polarisation 322
5.11.10 Antenna Height 323
5.11.11 Operate Indoors 323
5.11.12 Improved Filtering and Guard Bands 323
5.11.13 Site Shielding 325
5.11.14 Spectrum Sensing and Geodatabases 325
5.11.15 Wanted System Modifications 325
5.11.16 Modelling Methodology 326
5.12 Further Reading and Next Steps 327
6 Interference Analysis Methodologies 328
6.1 Methodologies and Studies 329
6.2 Example Scenarios 331
6.2.1 IMT Sharing with Satellite ES 331
6.2.2 Sharing Between Non-GSO MSS and FS 334
6.3 Static Analysis 338
6.4 Input Variation Analysis 344
6.5 Area and Boundary Analysis 347
6.5.1 Area Analysis 347
6.5.2 Boundary Analysis 351
6.6 Minimum Coupling Loss and Required Separation Distance 353
6.7 Analytic Analysis 357
6.8 Dynamic Analysis 363
6.9 Monte Carlo Analysis 373
6.9.1 Methodology 373
6.9.2 Variation of Inputs 378
6.9.3 Output Statistics and U Parameter Variation 380
6.9.4 Example Monte Carlo Analysis 382
6.9.5 LTE Downlink Link Budget 384
6.9.6 Statistical Significance 385
6.9.7 Deployment Analysis 392
6.9.8 Conclusions 394
6.10 Area and Two-Stage Monte Carlo 395
6.11 Probabilistic Analysis 401
6.12 Selection of Methodology 402
6.13 Study Projects and Working Methods 404
6.14 Further Reading and Next Steps 407
7 Specific Algorithms and Services 408
7.1 Fixed Service Planning 409
7.1.1 Overview 409
7.1.2 Link Planning 410
7.1.3 Interference Thresholds 412
7.1.4 High versus Low Site 415
7.1.5 Channel Selection 416
7.2 Private Mobile Radio 417
7.2.1 Overview 417
7.2.2 Coverage Calculation 418
7.2.3 PSA and Uplink Calculations 422
7.2.4 Thresholds and Propagation Model 422
7.2.5 Compatibility Checks 424
7.2.6 Channel Sharing Ratio 427
7.2.7 Sharing with Other Services 430
7.3 Broadcasting 431
7.3.1 Threshold Calculation 431
7.3.2 Coverage Prediction 434
7.3.3 Statistical Power Summation 437
7.3.4 Single-Frequency Networks 442
7.4 Earth Station Coordination 443
7.5 GSO Satellite Coordination 450
7.5.1 Regulatory Background 450
7.5.2 Coordination Triggers 454
7.5.3 Detailed Coordination 457
7.5.4 Coordination and Regulatory Constraints 464
7.5.5 Gain Patterns 465
7.6 EPFD and Rec. ITU-R S.1503 467
7.6.1 Background 467
7.6.2 Exclusion Zones and the α Angle 471
7.6.3 EPFD Validation Methodology 475
7.6.4 EPFD Calculation 479
7.7 The Radar Equation 483
7.8 N-Systems Methodology 488
7.9 Generic Radio Modelling Tool 494
7.10 White Space Devices 501
7.10.1 Background and Services 501
7.10.2 FCC Methodology 504
7.10.3 Ofcom Methodology 506
7.10.4 Comparison of Approaches 511
7.11 Final Thoughts 514
References 515
Acronyms, Abbreviations and Symbols 522
Index 530
Interference analysis is fundamental to spectrum management and this book provides a comprehensive and detailed guide to this subject. The author is an expert who has chaired ITU-R meetings and contributed to many ITU-R Recommendations. The book builds from the motivations for interference analysis, including national and international regulatory regimes, all the way to sophisticated Monte Carlo analysis and descriptions of how to model specific services and their associated algorithms. It covers a wide range of systems and services, including Wi-Fi, fixed links, private mobile radio (PMR), 2G, 3G, 4G, broadcasting, radar, white space, ultra-wideband and programme making and special events plus science, navigation, maritime, aeronautical and satellite systems, including both GSO and non-GSO.
The book describes fundamental concepts such as the link budget, carrier types, access methods, noise calculations, antennas, dynamics, statistics and propagation models and then builds up to details of the interference calculation and interference analysis methodologies. In particular, the book describes how to convolve transmit and receive spectrum masks, construct link budgets with an associated interference margin and use them to derive thresholds, including apportionment. Alternative interference metrics are described together with methods to mitigate against interference.
The book is essential for both those new or experienced in the field, to help understand and advance technical studies for system design, frequency assignment, coordination or regulatory analysis.
Dr Haim Mazar, Israel