Intergenerational Relations: Theory, Research and Policy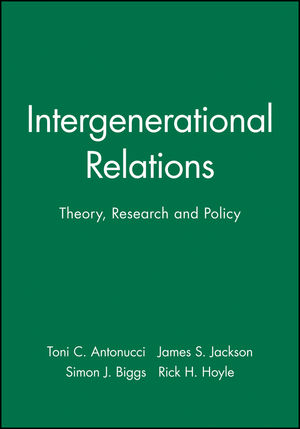 Intergenerational Relations: Theory, Research and Policy
ISBN: 978-1-405-18584-4 January 2008 Wiley-Blackwell 228 Pages
Description
Changing times mean that people are living longer and in more complex families. Changes include greater geographical mobility, increased racial and ethnic diversity, new patterns of immigration and identity reformulation, and changing work and family roles. With governmental resources decreasing, it is especially important to understand the changing nature of multigenerational family structures, functioning, and roles in individual well-being in order to maximize the effectiveness of informal and formal supports available. This issue examines factors that facilitate anticipating, understanding, and designing support programs to meet the challenges facing individuals in all generation positions, families, and communities in the U.S. and around the world.
Table of contents
INTRODUCTION.
Intergenerational Relations: Theory, Research, and Policy (Toni C. Antonucci, James S. Jackson, and Simon Biggs).
THEORY AND METHODS.
Thinking about Generations: Conceptual Positions and Policy Implications (Simon Biggs).
Crossing Age and Generational Boundaries: Exploring Intergenerational Research Encounters (Amanda M. Grenier).
Age Cohort, Ancestry, and Immigrant Generation Influences in Family Relations and Psychological Well-Being among Black Caribbean Family Members (James S. Jackson, Ivy Forsythe-Brown, and Ishtar O. Govia).
GENERATIONAL INFLUENCES ON WELL-BEING.
Health Disparities and Arab-American Elders: Does Intergenerational Support Buffer the Inequality–Health Link? (Kristine J. Ajrouch).
Generational Structure and Social Resources in Mid-Life: Influences on Health and Well-Being (Jessica M. McIlvane, Kristine J. Ajrouch, and Toni C. Antonucci).
Capturing the Complexity of Intergenerational Relations: Exploring Ambivalence within Later-Life Families (Karl Pillemer, J. Jill Suitor, Steven E. Mock, Myra Sabir, Tamara B. Pardo, and Jori Sechrist).
Relationships with Grandparents and the Emotional Well-Being of Late Adolescent and Young Adult Grandchildren (Sarah A. Ruiz and Merril Silverstein).
GENERATIONAL INFLUENCES ON CAREGIVING.
Marital History and Intergenerational Solidarity: The Impact of Divorce and Unmarried Cohabitation (Svein Olav Daatland).
Intergenerational Relations with In-Laws in the Context of the Social Convoy: Theoretical and Practical Implications (Jennifer D. Santos and Mary J. Levitt).
Family Disruption and Support in Later Life: A Comparative Study Between the United Kingdom and Italy (Cecilia Tomassini, Karen Glaser, and Rachel Stuchbury).
Reciprocity in Parent–Child Exchange and Life Satisfaction among the Elderly: A Cross-National Perspective (Ariela Lowenstein, Ruth Katz, and Nurit Gur-Yaish).
CONCLUSION.
Intergenerational Relations: Themes, Prospects, and Possibilities (Philip R. Costanzo and Melanie B. Hoy).
2006 KURT LEWIN AWARD ADDRESS.
Introduction to Gregory M. Herek's Lewin Award Address (Faye J. Crosby).
Confronting Sexual Stigma and Prejudice: Theory and Practice (Gregory M. Herek)
Features


outlines current challenges facing older people and their families both in the United States and around the world.


Provides an overview of current theoretical and methodological issues; generational influences on well-being, as well as generational influences on caregiving