Interior Design Visual Presentation: A Guide to Graphics, Models, and Presentation Techniques, 2nd Edition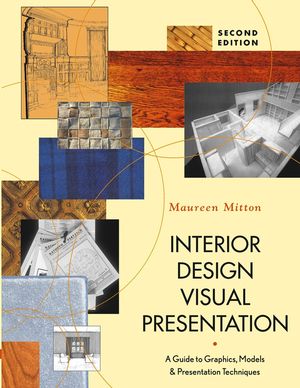 Interior Design Visual Presentation: A Guide to Graphics, Models, and Presentation Techniques, 2nd Edition
ISBN: 978-0-471-62407-3 December 2003 208 Pages
Description
The new, updated edition of the successful book on interior design
Interior Design Visual Presentation, Second Edition is fully revised to include the latest material on CAD, digital portfolios, resume preparation, and Web page design. It remains the only comprehensive guide to address the visual design and presentation needs of the interior designer, with coverage of design graphics, models, and presentation techniques in one complete volume.
Approaches to the planning, layout, and design of interior spaces are presented through highly visual, step-by-step instructions, supplemented with more than forty pages of full-color illustrations, exercises at the end of each chapter, and dozens of new projects. With the serious designer in mind, it includes a diverse range of sample work, from student designers as well as well-known design firms such as Ellerbee and Beckett Architects and MS Architects.
Table of contents
Acknowledgments.
Introduction.
1. Orthographic Draings.
2. The Design Process and Related Graphics.
3. Paraline and Perspective Drawings.
4. Draiwng and Sketching Interior Environments.
5. Rendering.
6. Scale Models.
7. Presenting Materials and Finishes.
8. Portfolios and Resumes.
Appendix One. Directory of Professionals Featured.
Appendix Two. Drawings Elevations: A Residential Case Study.
Appendix Three. Color Theory for Rendering.
Appendix Four. Scale Figures.
Appendix Five. Two Point Perspective Grid.
Appendix Six. Floor Plans of  Professional Case Study, Science Museum of Minnesota.
Index.
What's New
How-to approach and step-by-step instruction supplemented by concise information about the process of design
Only book that covers all three FIDER-required subjects (design graphics, models, and presentation techniques) in one com-prehensive text
Fully updated to include coverage of CAD and digital portfolios, web page design, end-of-chapter exercises, and samples of student work
40 pages of full-color illustrations!