Interior Home Improvement Costs: The Practical Pricing Guide for Homeowners and Contractors, 9th Edition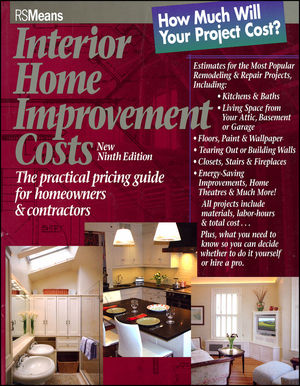 Interior Home Improvement Costs: The Practical Pricing Guide for Homeowners and Contractors, 9th Edition
ISBN: 978-0-876-29743-8
Dec 2004
272 pages
Description
From small do-it-yourself projects to major renovations, get professional estimates for the most popular remodeling and repair projects. Interior Home Improvement Costs includes more than 65 projects with complete, customizable cost breakdowns for doing the work — with or without a contractor.

You'll have access to current costs for your location on the most popular remodeling projects, including:
Renovating a kitchen or bathroom
Creating a professional home office or home theatre
Turning an attic, basement or garage into new living space
Installing a new fireplace
Building or removing walls and closets
Installing new flooring or ceilings
Refurbishing or building new stairs
Making a home wheelchair-accessible
FEATURES:
Interior Home Improvement Costs includes a description of what materials are needed, how much they will cost, and how long the work will take. You'll know what skills are required to do it yourself, and how much a contractor is likely to charge if you decide to use a professional. Find out which improvements have the best payback when it comes time to sell your house, and get expert tips on working with contractors, architects, and interior designers. Interior Home Improvement Costs also features a handy checklist for selecting materials and comparing prices.
Acknowledgments.
INTRODUCTION.
Return on Your Home Improvement Investment.
The "Green Building" Trend.
Remodeling an Older Home.
PART ONE: WORKING WITH DESIGN AND BUILDING PROFESSIONALS.
Working with an Architect.
Working with an Interior Designer.
Working with a Contractor.
Contractor Evaluation Sheet.
Questions for the Building Department.
PART TWO: INTERIOR PROJECTS WITH ESTIMATES.
How to Use the Model Projects.
New Living Areas.
Finishing a Full Attic.
Finishing a Half Attic.
Finishing a Garage.
In-Law Apartment.
Finishing a Standard Basement.
Finishing a Walk-out Basement.
Professional Home Office.
Home Theater.
Bathrooms.
Standard Half Bath.
Deluxe Half Bath.
Standard Full Bath.
Deluxe Full Bath.
Standard Master Bath.
Deluxe Master Bath.
Water-Conserving Bath.
Ventilation System.
Vanity and Sink Replacement.
Tile Walls and Floors.
Toilet Replacement.
Closets and Built-in Storage.
Built-in Entertainment Center.
Standard Clothes Closet.
Under-Stairs Closet.
Walk-in Cedar Closet.
Linen Closet.
Laundry Center.
Kneewall Storage Unit.
Lighting, Fans, and Electrical System Upgrades.
Light Fixture Installation/Upgrade.
Electrical System Upgrade.
Data/Communications Wiring.
Whole-House Fan.
Fireplaces.
Built-in Fireplace.
Gas Fireplace.
Masonry Fireplace.
Kitchen Remodeling.
Kitchen Sink Replacement.
Kitchen Island.
Range Hood.
Cabinet/Countertop Upgrade.
Standard Single-Wall Kitchen.
Deluxe Single-Wall Kitchen.
Standard Galley Kitchen.
Deluxe Galley Kitchen.
Standard L-Shaped Kitchen.
Deluxe L-Shaped Kitchen.
Standard U-Shaped Kitchen.
Deluxe U-Shaped Kitchen.
Standard Peninsula Kitchen.
Deluxe Peninsula Kitchen.
Standard Island Kitchen.
Deluxe Island Kitchen.
Modifications for Special Needs.
Wheelchair-Accessible Shower.
Wheelchair-Accessible Kitchen.
Other Modifications.
Walls, Ceilings, and Floors.
Interior Doors.
Building a New Wall.
New Opening in Wall.
Oak Strip Floor.
Laminate Flooring.
Vinyl Sheet Flooring.
Ceramic Tile Floor.
Carpet.
Suspended Ceiling.
Ceiling Replacement.
Insulation.
Painting and Wallpapering.
Wainscoting, Chair Rail, and Moldings.
Stairways.
Spiral Staircase.
Disappearing Stairway.
Standard Stairway.
PART THREE: DETAILED COSTS.
How to Use the Detailed Costs.
Cost Data.
Adjusting Project Costs to Your Location.
PART FOUR: ADDITIONAL RESOURCES.
Safety Tips.
Material Shopping List.
Glossary.
Index.