Intermediate Accounting, Volume 1: IFRS Edition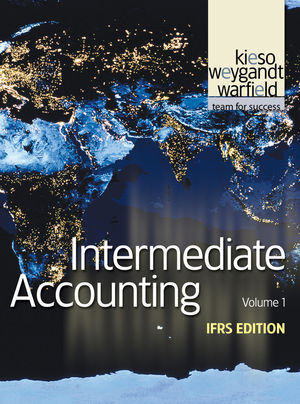 Intermediate Accounting, Volume 1: IFRS Edition
ISBN: 978-0-470-61630-7
Jun 2010
800 pages
Product not available for purchase
Description
For colleges and universities around the world, John Wiley & Sons is proud to announce Intermediate Accounting: IFRS Edition, by Donald E. Kieso, Jerry J. Weygandt, and Terry D. Warfield, which incorporates International Financial Reporting Standards (IFRS) into the existing textbook framework. On almost every page, the book addresses every accounting topic from the perspective of IFRS while still highlighting key differences between IFRS and US GAAP. Following the reputation for accuracy, comprehensiveness and currency, the authors have painstakingly created a book dedicated to assisting students learning intermediate accounting topics under the rules of IFRS.

 

Volume 2 available 7/15/2010!
Chapter 1 Financial Accounting and Accounting Standards.
Chapter 2 Conceptual Framework for Financial Reporting.
Chapter 3 The Accounting Information System.
Chapter 4 Income Statement and Related Information.
Chapter 5 Statement of Financial Position and Statement of Cash Flows.
Chapter 6 Accounting and the Time Value of Money.
Chapter 7 Cash and Receivables.
Chapter 8 Valuation of Inventories: A Cost-Basis Approach.
Chapter 9 Inventories: Additional Valuation Issues.
Chapter 10  Acquisition and Disposition of Property, Plant, and Equipment.
Chapter 11 Depreciation, Impairments, and Depletion.
Chapter 12 Intangible Assets.
Chapter 13 Current Liabilities, Provisions, and Contingencies.
Chapter 14 Non-Current Liabilities.
New focus on international companies, international examples, and international currencies. The basics of financial accounting principles and procedures are presented within the context of IFRS while also providing exercises and problems that present students with international currency examples (e.g. yen, euro).
Real-world, international company examples incorporated throughout the textbook.
Authoritative literature references (IASB/IFRS) – considers the key authoritative literature under IFRS as students become more familiar with the original sources.
Convergence Corner features consider key differences between US GAAP and IFRS while offering information about how the systems are converging on the topic.
Extensive end-of-chapter material – keyed to international companies and international currencies.
Marks & Spencer (GBR), Cadbury (GBR), and Nestlé (CHE) Annual Reports & Financial Reporting Problems offer students opportunities to apply their knowledge of accounting and IFRS to real-life international companies.
Key terminology changes (e.g. Common stock  Share capital; Balance sheet  Statement of financial position) familiarize students with the language of IFRS.
Inclusion of helpful references, such as a chart of currency, country of origin, and current conversion rate.