Intermediate Accounting: IFRS Edition, 2nd Edition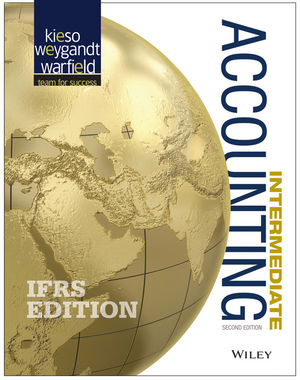 Intermediate Accounting: IFRS Edition, 2nd Edition
ISBN: 978-1-118-80069-0
Jul 2014
1384 pages
Product not available for purchase
Description
The Second Edition of Intermediate Accounting: IFRS Edition, by Donald E. Kieso, Jerry J. Weygandt, and Terry D. Warfield, provides the tools global accounting students need to understand what IFRS is and how it is applied in practice. The emphasis on fair value, the proper accounting for financial instruments, and the new developments related to leasing, revenue recognition, and financial statement presentation are examined in light of current practice. New Global Accounting Insights highlight the important differences that remain between IFRS and US GAAP, and discuss the ongoing joint convergence efforts to resolve them. Comprehensive, up-to-date, and accurate, Intermediate Accounting: IFRS Edition includes proven pedagogical tools, designed to help students learn more effectively and to answer the changing needs of this course.
Updated discussion in Chapter 2: Conceptual Framework for Financial Reporting of the IASB's guidance related to the use of fair value in financial statements.
Chapter 4: Income Statement contains new sections on the one statement and two statement formats for reporting components of other comprehensive income.
All-new Chapter 18: Revenue Recognition added to reflect the very recent IFRS on revenue recognition.
Chapter 23: Statement of Cashflows has been reorganized to prioritize relevant methods of preparing statements.
New Videos available on WileyPLUS include Lectures with Terry Warfield, Solution Walkthroughs, Applied Skills, and PowerPoint Lectures, all of which walk students through problem solving skills while introducing them to key concepts.
Flash Cards and Crossword Puzzles offer additional review focusing on key terminology and concepts in each chapter.
Intermediate Accounting IFRS Edition is available with WileyPLUS, a research-based online environment for effective teaching and learning. WileyPLUS is packed with interactive study tools and resources–including the complete online textbook–to give your students more value for their money. www.wileyplus.com
Based on the structure and successful pedagogy of the market-leading US GAAP textbook Intermediate Accounting, by Kieso, Weygandt, and Warfield that is used by the majority of accounting programs at US universities, and as a reference by thousands of global accounting professionals.
Marks & Spencer, adidas, and Puma Annual Reports & Financial Reporting Problems offer students opportunities to apply their knowledge of accounting to real-life company analysis and comparison.
Evolving Issues throughout the book reflect the constant changes in the accounting world, and help professors highlight and discuss areas in which they may be encountering controversy or nearing resolution.
Global Accounting Insights at the end of each chapter highlight similarities and differences between US GAAP and IFRS to increase student understanding.