Intermediate Accounting: IFRS Edition, 3rd Edition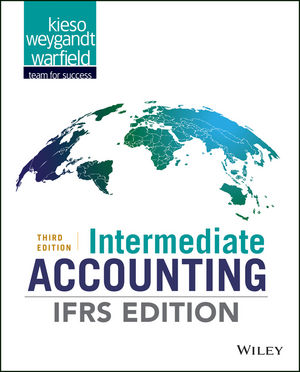 Intermediate Accounting: IFRS Edition, 3rd Edition
ISBN: 978-1-119-37293-6 August 2017 1384 Pages
Description
The Third Edition of Intermediate Accounting: IFRS Edition provides the tools global accounting students need to understand IFRS and how it is applied in practice. The emphasis on fair value, the proper accounting for financial instruments, and the new developments related to leasing, revenue recognition, and financial statement presentation are examined in light of current practice. Global Accounting Insights highlight the important differences that remain between IFRS and U.S. GAAP, and discuss the ongoing joint convergence efforts to resolve them. Comprehensive, up-to-date, and accurate, Intermediate Accounting: IFRS Edition includes proven pedagogical tools, designed to help students learn more effectively and to answer the changing needs of this course.
Chapter 1: Financial Reporting and Accounting Standards
Chapter 2: Conceptual Framework for Financial Reporting
Chapter 3: The Accounting Information System
Chapter 4: Income Statement and Related Information
Chapter 5: Statement of Financial Position and Statement of Cash Flows
Chapter 6: Accounting and the Time Value of Money
Chapter 7: Cash and Receivables
Chapter 8: Valuation of Inventories: A Cost-Basis Approach
Chapter 9: Inventories: Additional Valuation Issues
Chapter 10: Acquisition and Disposition of Property, Plant, and Equipment
Chapter 11: Depreciation, Impairments, and Depletion
Chapter 12: Intangible Assets
Chapter 13: Current Liabilities, Provision, and Contingencies
Chapter 14: Non-Current Liabilities
Chapter 15: Equity
Chapter 16: Dilutive Securities and Earnings per Share
Chapter 17: Investments
Chapter 18: Revenue Recognition
Chapter 19: Accounting for Income Taxes
Chapter 20: Accounting for Pensions and Postretirement Benefits
Chapter 21: Accounting for Leases
Chapter 22: Accounting Changes and Error Analysis
Chapter 23: Statement of Cash Flows
Chapter 24: Presentation and Disclosure in Financial Reporting
Appendix A: Specimen Financial Statements: Mark and Spencer Group plc
Appendix B: Specimen Financial Statements: adidas AG
Appendix C: Specimen Financial Statements: Puma Group
Index
Review and Practice and Solutions: New practice opportunities with solutions are integrated throughout the textbook and the Wiley Engage course. Each textbook chapter now provides students with a Review and Practice section that includes learning objective summaries, a key term listing, and a practice problem with solution.
Streamlined Learning Objectives and Design: Each chapter now offers a more focused approach within each chapter and a design that improves compatibility across all media.
Authoritative Literature References: Placed near the end of each chapter, the Authoritative Literature References include a full citation as well as a practice Research Case.
Major Content Revisions: In response to the changing environment, we have significantly revised several chapters.
Wiley Engage: WILEY Engage for Intermediate Accounting: IFRS Edition is an innovative, dynamic online
environment designed to help instructors administer their course in a personalized way. Utilizing WILEY Engage provides instructors with the online tools and resources to create and manage effective activities and assessment strategies.
Review and Practice Solutions: Review and Practice Solutions are integrated throughout the textbook and
WILEY Engage course. Each chapter now provides students with a Review & Practice section that includes
learning objective summaries, a list of key terms, and a practice problem and solution.
Solution Walkthrough Videos: These videos provide a step-by-step walkthrough of thorough, relevant homework problems and solutions to review important concepts.
Online Textbook: A complete online version of the textbook is included with seamless integration of all content. It can be fully customized, curated, or rearranged to better support the course. Local content can be easily added, including the instructor's own assessment questions.
Multiple Model Support: Wiley Engage supports multiple pedagogical models, including structured learning
paths, self-directed learning, competency-based learning, and more.
Mobile-Ready: Wiley Engage is responsive and mobile-ready for ease of use across all devices.
Calendar and Collaboration Tools: An all-in-one calendar, progress tracking, and collaboration tools help
students stay focused and engaged.
Downloadable Digital Textbook: Wiley Engage offers a downloadable digital textbook for offline reading.
Additional Resources: Includes additional relevant student study tools and learning resources to ensure positive learning outcomes.