Intermediate Accounting: Principles and Analysis, 2nd Edition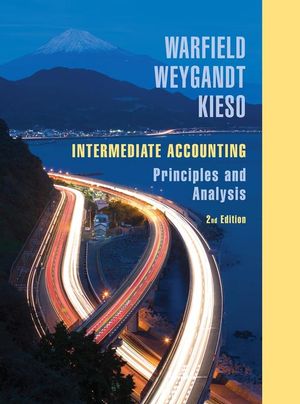 Intermediate Accounting: Principles and Analysis, 2nd Edition
ISBN: 978-0-470-27973-1
Dec 2007
1140 pages
Description
Intermediate Accounting: Principles and Analysis, Second Edition, provides a solid foundation for instructors whose goal is to help accounting students to build an understanding of the principles, concepts, and methods of financial accounting and reporting. Warfield, 2/e incorporates a more conceptual focus, new pedagogy within each chapter, and redesigned end of chapter material to better enhance the connections between content and homework assignments.
Chapter 1.  Financial Accounting and Accounting Standards.

Chapter 2.  Conceptual Framework Underlying Financial Accounting.

Chapter 3.  The Accounting Information System.

Chapter 4.  Balance Sheet.

Chapter 5.  Income Statement.

Chapter 6.  Statement of Cash Flows.

Chapter 7.  Revenue Recognition.

Chapter 8.  Cash and Receivables.

Chapter 9.  Accounting for Inventories.

Chapter 10.  Accounting for Property, Plant, and Equipment.

Chapter 11.  Intangible Assets.

Chapter 12.  Accounting for Liabilities.

Chapter 13.  Stockholders' Equity.

Chapter 14.  Investments.

Chapter 15.  Accounting for Income Taxes.

Chapter 16.  Accounting for Compensation.

Chapter 17.  Accounting for Leases.

Chapter 18.  Other Reporting Issues.

Appendix A Accounting and the Time Value of Money.

Online at Companion Website:

Appendix A - Accounting and the Time Value of Money.

Appendix B - Reporting Cash Flows.

Appendix C - Using Financial Calculators.

Appendix D - Retail Inventory Method.

Appendix E - Accounting for Natural Resources.

Appendix F - Accounting for Computer Software Costs.

Appendix G - Accounting for Troubled Debt.

Appendix H - Accounting for Derivative Instruments.

Appendix I -   Error Analysis.
"Try It Out" review exercises (with suggested solutions), following key text sections, engage students in active learning as they work their way through a chapter.
International Insight paragraphs (in margins) describe or compare the accounting practices in other countries.