Intermediate Italian For Dummies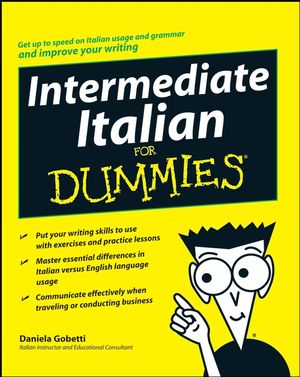 Intermediate Italian For Dummies
ISBN: 978-0-470-41126-1
Nov 2008
336 pages
Description
Take your Italian skills to the next level the fun and easy way with Intermediate Italian For Dummies! This practical, easy-to-follow guide will help you to be more fluent and comfortable in your Italian writing. You'll learn key concepts, practice what you've learned, and check your answers. With the exercises and lessons featured in this book, you will be able master written communication in Italian.

You'll quickly understand the basics of Italian grammar and pick up on the nuances of this romantic language. You'll learn how to conjugate verbs, navigate tenses, and feel comfortable with gendered words. Say and spell words correctly, and no one will be able to tell that you're not a native Italian. You'll discover the basics of ordering words, answering questions, and forming complete sentences. You'll be able to master parts of speech and apply articles as needed. Find out how to:
Navigate grammar, language nuances, and verb tenses
Conjugate verbs and understand the basics of gender
Say and spell words correctly
Order words correctly
Answer questions and form complete sentences
Use articles where necessary
Understand the various parts of speech
Write and speak Italian like a native
Complete with lists of ten facts to remember about Italian grammar and ten subtle terminology distinctions, Intermediate Italian For Dummies is your one-stop guide to taking your Italian skills to the next level and improving upon what you already know about this widely spoken language.
Introduction
.
Part I: Getting Your Bearings: Reviewing the Basics.
Chapter 1: What Do You Know? Parts of Speech and Then Some.
Chapter 2: Noun and Article Basics: Gender and Number.
Chapter 3: Numbers, Dates, and Time.
Part II: A Close Look at Parts of Speech.
Chapter 4: All About Pronouns.
Chapter 5: Adjectives, Adverbs, and Comparisons.
Chapter 6: Prepositions: The Big Challenge.
Chapter 7: Demonstrative, Indefinite, and Possessive Qualifiers.
Chapter 8: Linking Sentences with Conjunctions and Relative Pronouns.
Part III: What Would You Do without Verbs and Tenses?
Chapter 9: Writing in the Present.
Chapter 10: Glancing Back at the Past: The Present Perfect and Preterit.
Chapter 11: When Things Lasted (In the Past): The Imperfect.
Chapter 12: The Future Tense.
Part IV: Adding Nuances to Moods and Tenses.
Chapter 13: The Imperative.
Chapter 14: Forming Conditional and Subjunctive Verbs.
Chapter 15: The Conditional and the Subjunctive in Action.
Chapter 16: Satisfying Your Curiosity with Questions and Answers.
Chapter 17: The Reflexive, Passive, and Impersonal Constructions.
Part V: The Part of Tens.
Chapter 18: Ten Facts to Remember about Italian Grammar.
Chapter 19: Ten Subtle Verb Distinctions.
Part VI: Appendixes.
Appendix A: Verb Charts.
Appendix B: English-Italian Dictionary.
Appendix C: Italian-English Dictionary.
Index.